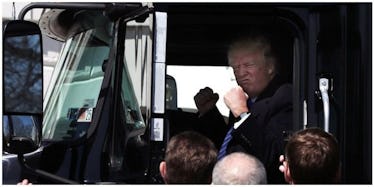 Donald Trump's Ridiculous Photo In A Fire Truck Is A 5 Year Old's Birthday Wis
Alex Wong/Getty Images
Proving that time is a flat circle, President Donald Trump is back in the driver's seat of a big ol' truck having fun while the fate of healthcare is up in the air.
This time, he was sitting in a fire truck -- one of several products being displayed for the White House's Made in America week -- while Vice President Mike Pence smiled like a proud papa. Definitely an experience that would make any five-year-old jealous.
The optics are eerily similar to Trump's pretend joy ride in a big rig only months ago, where he tooted the truck's horn several times and was later spotted wearing a pin that said, "I love trucks."
This time, however, Trump was in a Wisconsin-made fire truck, waving and making jokes.
Playing pretend, if you will.
I mean, honestly, just look at the way Pence watches Trump, making sure he doesn't miss a step and hurt himself.
It seems an odd moment of levity -- and tone-deafness -- at a time when millions of people are on the verge of losing health insurance, proposed budget cuts would slash government programs, and Trump's approval ratings are historically bad. But the display is a continuation of his "Buy American and Hire American" Executive Order and his American manufacturing campaign promises.
The Made in America showcase is, according to the White House, meant to honor American manufacturers.
The showcase is intended to highlight "the incredible workers and companies who make 'Made in America' the world standard for quality and craftsmanship." The statement further outlines the Trump administration's proclaimed dedication to American manufacturing:
America is a nation that honors the work of gifted and skilled tradespeople, but for too long our government has forgotten the American workers. Their interests were pushed aside for global projects and their wealth was taken from their communities and shipped overseas. Under the leadership of President Trump, not only will the American worker never be forgotten, but they will be championed. President Trump has offered a new vision: the well-being of the American citizen and worker will be placed second to none.
The move -- having Trump present products made in America and proselytize American manufacturing -- is a head-scratcher to some. Many of his products, including his Make America Great Again hats, are manufactured overseas.
The shirts, ties, dress shirts, and accessories in the Trump Collection are made in China, Bangladesh, Honduras, and Vietnam, according to The Washington Post. Suits and even items from his Home collection are made in the likes of China and Mexico.
Despite his questionable integrity when it comes to adhering to "Made in America" principles, one thing is for certain. He definitely loves American made trucks. Vroom, vroom.