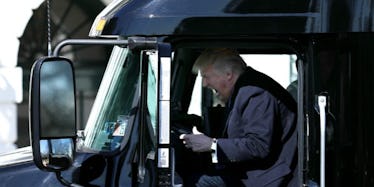 Trump Got Behind The Wheel Of A Truck And The Internet Is Making The Same Joke
REUTERS
He had dumps like a truck, truck, truck. Baby move your rump, rump, rump. Let me see that...
President Donald Trump may not have his replacement of Obamacare voted on yet, but that's OK because this man-child got to pretend he rode a big boy truck!
Trump met with a group of truckers and CEOs at the White House on Thursday to discuss healthcare -- but the big takeaway is Trump got to honk an 18-wheeler's horn.
Now, I know for a fact being president AND being a trucker are on the bucket list of MANY children. They're cool jobs, theoretically!
My grandpa was a trucker and my dad drives an oil truck, so 4-year-old me and Donald Trump have one thing in common: our small, smooth, never-worked-a-physical-job-in-our-life hands have BOTH gotten to pretend we were steering a semi-trailer truck!
While England grieves and tries to heal after a terrorist attack, our commander and chief got a sticker that says "I Love Trucks."
Look how happy this man is after getting to play pretend trucker. I swear, he's two seconds from slapping a bumper sticker on the presidential state car that says "Born on a mountain, raised in a cave, truckin' and fuckin' is all I crave."
The sticker on Air Force One will say "My other plane is a truck."
Correction: I do believe President Donald Trump is wearing a button that says "I (Heart) Trucks."
I almost lost all of my credibility over that. I was this close to becoming fake news.
Trump said about truck drivers,
No one knows America like truckers know America. You see it every day. You see every hill, and you see every valley and you see every pothole in our roads that have to be rebuilt.
I applaud Donald Trump meeting with truckers regarding healthcare -- the industry is high risk for chronic diseases. However, if the Freedom Caucus is given its way, they will cut provisions that state health insurance has to cover chronic disease management, as well as preventative care.
Ah, let's make ourselves feel better by making fun of the man who holds our nuke codes.
As for Trump? Well, he's about to head back to the White House, have a juice, snuggle with his blankie and go nap nap.
Citations: Our Toddler President Got To Play In A Big Boy Truck Today — Twitter Reacts! (Perez Hilton)