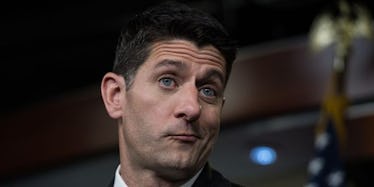 Paul Ryan Finally Admits Trump "Messed Up" His Charlottesville Response, And Duh
Nicholas Kamm/AFP/Getty Images
President Donald Trump has been no stranger to criticism from Republicans since he began commenting on the nature of white supremacist protests in Virginia. The latest criticism from a fellow GOP member, however, came from a unique source: the speaker of the house. On Monday night, Aug. 21, Rep. Paul Ryan said Trump "messed up" his Charlottesville response.
The speaker told a crown of his constituents,
I do believe that he messed up in his comments on Tuesday when it sounded like a moral equivocation or at the very least moral ambiguity when we need extreme moral clarity.
Ryan made these remarks during a town hall meeting in his native Wisconsin, which was aired by CNN. The speaker was prompted to comment on Trump's response to Charlottesville after a member of the audience asked whether he would specifically condemn Trump's words, the way other Republican congressmen have.
Ryan had already commented on the protests themselves and specifically singled-out white supremacy as a "scourge" on the day the Charlottesville protests erupted.
In addition, the speaker also released a statement on Monday morning insisting there will be no tolerance of "hateful ideology." The statement read,
I still firmly believe this hate exists only on the fringes. But so long as it exists, we need to talk about it. We need to call it what it is. And so long as it is weaponized for fear and terror, we need to confront it and defeat it. That is why we all need to make clear there is no moral relativism when it comes to neo-Nazis. We cannot allow the slightest ambiguity on such a fundamental question.
However, the key difference between Ryan's previous statements and his comments during the town hall on Monday night was a direct comment on how exactly he believes Trump went wrong when he spoke about Charlottesville.
Clearly, some people thought his criticism of white supremacy was lacking if it didn't also include a critique of Trump.