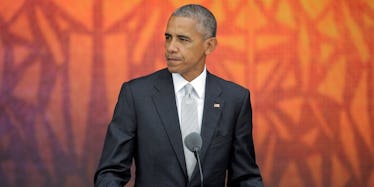 President Obama Says He'd Be 'Even More Gray' If He Let Trump Faze Him
REUTERS
President Barack Obama had a lot to say following the first presidential debate between Donald Trump and Hillary Clinton.
Obama sat down for an interview with Ryan Seacrest the morning after the debate, which he apparently watched from the White House's Treaty Room.
If you remember the intense battle of words on Monday night, you'll recall that Donald Trump took various jabs at President Obama, his presidential legacy and even his personal background.
Newsflash: President Obama is not fazed by much of what comes out of Donald Trump's face. As a matter of fact, Obama has expressed that if he let Trump's words faze him, he'd be "even more gray" by now.
I'm sure Hillary Clinton took the same approach after Hofstra University misspelled her name.
In addition to taking continuous jabs during the heated debate, Donald Trump lacked hard facts and evidence to support his various claims as to why he should run our country.
If anyone took note of that, it was Obama.
The 44th president of the United States spoke to Seacrest, saying,
Anybody who was watching the debate I think got a sense that you got really sharply contrasting visions about where we should take the country.
He then voiced his immense support for Hillary Clinton before referring to Trump as "the other guy."
Obama continued,
I would say that the other guy doesn't have the preparation, the temperament or the core values of inclusion and making everybody have opportunities that would take our country forward.
As for Hillary? Well, he obviously had very good things to say about the Democratic presidential nominee,
I am admittedly biased. I've worked with Hillary, I know her, she is well prepared, she's got the right temperament for the job, she's well respected around the world, she's serious, she does her homework and she's got a vision to put people back to work and make sure the economy is working for everybody and not just a few.
The president then proceeded to stress to listeners how important it is to make sure your voice is heard by voting.
Coincidentally, it's #NationalVoterRegistration day, so make sure you get out there and register. Obama added,
If you're concerned about the cost of going to college, if you're concerned about where the jobs are going to be when you graduate, if you're interested in a trade, or figuring out how you're going to save to buy your own home, if you want make sure women are getting paid the same as men for doing the same job, or once you have a family, that you're going to be able to take some time off if somebody gets sick and you're not going to go broke if you get sick — these are all issues that really matter; they're going to count.
President Obama wrapped up his statement during his interview with Ryan Seacrest, concluding,
Like I said, I've got a strong opinion that there's only one candidate in this race, Hillary Clinton, who is actually qualified to do the job and make good decisions for us. Regardless, you should do your own homework, but don't sit out on this thing.
You hear that, people?! Do NOT sit out on this thing.
If you haven't watched the first presidential debate yet, please do.
Citations: Barack Obama on the 2016 Presidential Debate: I'd Be 'Even More Gray' If I Let Donald Trump's Digs Get to Me (US Magazine)