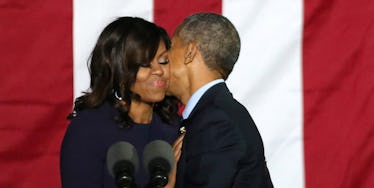 Obama Reveals Plan To Take Michelle On Vacay Post-Presidency And We're In Love
REUTERS
President Barack Obama said he will take his wife, First Lady Michelle, on vacation once his presidency is over and done with.
Thank the heavens.
It was clear from the start of Obama's campaign way back in 2008 that the presidency would not be a particularly fun time for Michelle and her family. She was repeatedly lambasted by the media for any remark she made.
Of course, she was also facing a gigantic serving of sexism and racism.
In the eight years since, that sexism and racism has only mildly receded... only to be brought back in exhausting force with the campaign of Donald Trump.
Obama winning the presidency meant that Michelle had to face a whole new set of challenges.
Michelle had to quit the high-paying job she'd worked hard to get – as the vice president of community and external affairs at the University of Chicago Hospitals – in order to help her husband run for president (and later, serve as First Lady).
So, now that the presidency is winding down, it looks to be a good time for Barack to go ahead and give back to his wife, who has done so much for him.
Obama said on Sunday that he will, in fact, be taking Michelle on vacation.
He was speaking in Peru about whether or not he will interject in Trump's presidency.
He said he would give Trump his space to try to do what he wants "without somebody popping off in every instance."
But he also said,
If there are issues that have less to do with the specifics of some legislative proposal or battle, but go to core questions about our values and our ideals, and if I think that it's necessary or helpful for me to defend those ideals, then I'll examine it when it comes.
But there's also something a little more pressing on Obama's mind. He said,
But what I do know is that I have to take Michelle on vacation.
Go ahead and do that, Barack. But come back to us quickly.