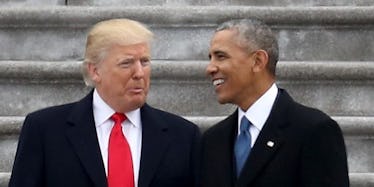 Barack Obama's Inauguration Day Letter To Donald Trump Is So Amazingly Classy
Rob Carr / Staff / Getty Images
Even during his final moments in the White House, Barack Obama managed to make a statement. According to tradition, the outgoing commander-in-chief leaves a note for the incoming president with congratulatory remarks and words of advice on the day he (and hopefully one day she) is sworn in. Now that Obama's Inauguration Day letter to Trump has surfaced for the first time, the country is swooning over the leader's incredibly moving and classy words.
The note, which CNN claims to have exclusively obtained through someone who viewed the document through Trump, outlines four invaluable pieces of advice and notes how incredibly fortunate both Obama and Trump are for being given such an enormous responsibility. To kick things off, Obama praised Trump on his "remarkable run," though he had thrown his support behind Democrat Hillary Clinton in the race. Obama continued,
Millions have placed their hopes in you, and all of us, regardless of party, should hope for expanded prosperity and security during your tenure. This is a unique office, without a clear blueprint for success, so I don't know that any advice from me will be particularly helpful. Still, let me offer a few reflections from the past 8 years.
The first point outlines the respective presidents' "good fortune" and using it wisely in order to "build more ladders of success for every child and family that's willing to work hard." Obama continued by noting the importance of America leading on the world stage and how the president — a "temporary occupant of this office" — must leave the country's values as he found them.
"Regardless of the push and pull of daily politics, it's up to us to leave those instruments of our democracy at least as strong as we found them," Obama wrote.
The brief letter also reminds Trump to take time to turn to family when politics become complicated. Obama concludes the letter with a sign of support, saying, "Michelle and I wish you and Melania the very best as you embark on this great adventure, and know that we stand ready to help in any ways which we can."
Though brief — not even reaching 300 words — Obama's letter delivered an impactful message, continuing tradition and offering ways to stay united.
Eight years earlier, he received his own message from former President George W. Bush. One of the pieces of advice in it read, "There will be trying moments. The critics will rage. Your 'friends' will disappoint you," Bush wrote. "But, you will have an Almighty God to comfort you, a family who loves you, and a country that is pulling for you, including me."
It has certainly been a tumultuous time in American politics, but it's refreshing to see Obama's powerful reflections on his time in office. You can read the letter in full here.