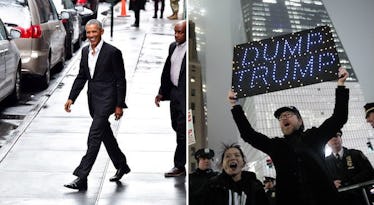 How NYC Welcomes Obama Versus Trump Tells You Everything You Need To Know
Getty Images
President Donald Trump is returning to New York City, his hometown, for the first time since becoming the president.
He might be from the Big Apple, but that doesn't mean its residents are happy about his homecoming.
The NYPD is bracing for major protests as Trump arrives in the city.
Even before his arrival, signs of protest emerged throughout New York City.
Trump is scheduled to meet with Australian Prime Minister to speak aboard the Intrepid Sea, Air and Space Museum at Pier 86 on Thursday night. They will commemorate the 75th anniversary of the U.S. and Australia's Battle of Coral Sea against the Japanese during World War, The Huffington Post reports.
So, organizers of the Women's March left the president a little note next to the USS Intrepid.
A "No Trump NYC" banner also reportedly appeared on the Staten Island Ferry, and #NoTrumpNYC began trending on Twitter.
Thousands are expected to protest at DeWitt Clinton Park, not far from the Intrepid, and thousands more are poised to gather outside of Trump Tower.
Things were a lot different when former President Barack Obama came to New York City a few months ago.
In February, crowds met Obama with cheers as he made a surprise visit to New York. They treated him like a rock star.
The reaction Obama received in New York versus the reception Trump is getting on Thursday speaks volumes about the political landscape of the US right now.
Major US cities are liberal enclaves where opposition to Trump is well established. This is especially true in New York, where there have been multiple massive anti-Trump protests.
At the same time, the differences in reactions to both men reflects their levels of popularity.
Americans voted Obama the man they admire most in the world in 2016. He left office with an approval rating of 60 percent and his popularity only seems to have grown in his post-presidency.
Meanwhile, Trump is the most unpopular new president in modern US history. His approval rating stands at 42 percent.