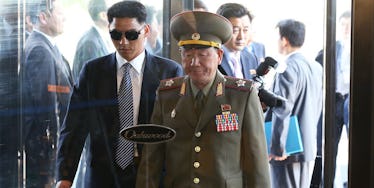 North Korea Arrests American Student For Completely Unexplained Reason
Getty Images
North Korea detained an American student from Cincinnati, Ohio for allegedly committing a "hostile act" against the government, Reuters reports.
The student, 21-year-old Otto Frederick Warmbier, was detained on January 2 in Pyongyang at the airport after a five-day trip.
Warmbier is enrolled at the University of Virginia studying economics.
North Korea reportedly claimed Warmbier wanted to "destroy the country's unity" via an act "tolerated and manipulated by the US government," but it hasn't expanded on exactly what he did.
In other words, the North Korean government arrested the young man for no apparent reason. But this is hardly the first time it's done something like this, and Warmbier is now the third Westerner currently detained in North Korea.
He was apparently in North Korea traveling with a China-based tour group, Young Pioneer Tours. The tour group has reportedly been in touch with Warmbier's family, US officials and the Swedish Embassy in North Korea.
The Swedish Embassy represents US interests in North Korea, given Washington and Pyongyang don't have formal diplomatic relations.
According to Reuters, the US State Department is aware of the situation, but won't release any specific details due to privacy concerns.
Ohio Governor John Kasich, currently a Republican candidate for president, tweeted about the arrest on Friday morning and called it "inexcusable."
North Korea's arrest of an Ohio college student is inexcusable & he should be released & returned immediately. https://t.co/nfvkCwT4iB — John Kasich (@JohnKasich) January 22, 2016
US Rep. Brad Wenstrup, who represents the region in Ohio where Warmbier is from, also tweeted about the arrest and said he's doing what he can to assist the US State Department.
Our office is reaching out to the State Dept this morning through multiple channels to assist however possible in getting Mr. Warmbier home — Brad Wenstrup (@RepBradWenstrup) January 22, 2016
North Korea remains a topic of both fascination and concern in discussions surrounding foreign affairs. It's a secluded, autocratic and militaristic state known for erratic and aggressive behavior.
Warmbier was arrested just four days before North Korea conducted a nuclear test -- a disturbing development for much of the wider world.
Many might wonder what Warmbier was doing in North Korea in the first place, given the country has been an enemy to the US for over half a century. But Americans have been allowed to travel there since 2010, and roughly 6,000 Westerners travel to North Korea every year.
Citations: North Korea detains U.S. student on New Year trip for 'hostile act' (Reuters), U.S. Relations With North Korea (US Department of State), Visit anytime! North Korea lifts restrictions on U.S. tourists (CNN), Despite warnings, more Western tourists are traveling to North Korea (Los Angeles Times)