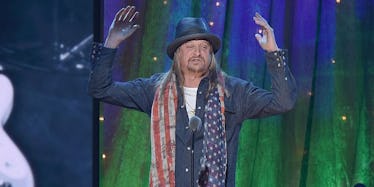 We Need To Talk About Kid Rock's Possible Run For Senate
Theo Wargo/Getty Images
He's not exactly the most likely person to enter politics, but on July 12, Kid Rock tweeted he's considering running for U.S. Senate in Michigan. Since that time, his name has frequently popped up in the news in conversations about the 2018 midterms. Some of you might be rolling your eyes about this.
After all, how could a rock star known for writing songs about prostitutes and using copious amounts of drugs ever run for high office and actually win? Well, you might want to take a moment and remind yourself Donald Trump, a former reality TV star who was accused of sexual assault by multiple women and ran a presidential campaign fueled by humanity's worst instincts, is now President of the United States.
With Trump as president, nothing feels impossible in U.S. politics anymore.
We seem to have reached a point in time where politicians can recover from what probably would've been insurmountable scandals in the past. So, at this point, it sadly doesn't feel that farfetched Kid Rock could run for Senate -- and potentially even emerge victorious.
Dennis Lennox, a Republican political consultant in Michigan, told Politico that as long as he "doesn't get caught in bed with a little boy, or beat up a woman" before the Republican primary in August 2018 then Kid Rock is "going to win the nomination."
Democratic Senators have warned to not treat this as a joke.
Responding to the news Kid Rock was considering running, Senator Elizabeth Warren sent an email to supporters, first reported by The Boston Herald, that said,
I know a lot of people are thinking: this is some sort of joke, right? Well, maybe this is all a joke — but we all thought Donald Trump was joking when he rode down the escalator at Trump Tower and announced his campaign, too. And sure, maybe this is just a marketing gimmick for a new album or tour — but we all thought Donald Trump was just promoting his reality TV show, too.
Senator Chuck Schumer echoed Warren's sentiments in an email to supporters, reported by CNN, that said he didn't know if this was all a big joke, but he "didn't find it funny."
Schumer added, "In the Trump era, we can't afford to take this tweet as a joke," referring to the tweet in which Kid Rock seemed to announce his intention to run.
Kid Rock's tweets have been very political lately.
Following up on the July 12 tweet that sent shockwaves through the political world, Kid Rock tweeted a poll on July 24 that showed he would lead in a hypothetical race against incumbent Michigan Senator Debbie Stabenow.
The tweet linked to an article from The Gateway Pundit, a right-leaning publication, that featured a Delphi Analytica poll.
This tweet came after Kid Rock tweeted what seemed to be his political philosophy on July 17.
Kid Rock also took what seemed to be a subtle jab at both Stabenow and Schumer in a tweet on July 21.
According to CNN, Schumer's recent email to supporters about Kid Rock featured a link that would split donations between him and Stabenow, so perhaps this tweet was a response to that.
Kid Rock has also repeatedly tweeted a link to his website, www.kidrockforsenate.com, which sells t-shirts and other merchandise that say "Kid Rock for Senate."
As Politico points out, the merchandise store is hosted by Warner Bros. Records, and Kid Rock also just released two new songs and is preparing for a tour this fall. With that said, it's understandable why some might think this is all a publicity stunt.
At the same time, as Warren and others highlighted, it would be a huge mistake to assume Kid Rock's campaign doesn't have a realistic chance of moving forward.
We are currently witnessing what happens when a celebrity/political outsider with no experience runs for high office and actually wins, and it's pure chaos.
It doesn't take a genius to recognize Kid Rock has no qualifications whatsoever to enter politics.
Empowering candidates like him arguably makes a mockery of America's democracy and could potentially place lives in danger. Politics is not a game or a popularity contest -- it pertains to vital issues that impact all of us. We don't want completely inexperienced individuals leading the charge when it comes to addressing the biggest challenges we face as a society.
The current detestation among many Americans for "career politicians" is understandable in many respects, given how corrupt and calculated they can make politics feel, but that doesn't mean we should throw experience and demeanor completely out of the window.
It comes down to this: Do we really want a guy like Kid Rock, who's spent his career objectifying women and was once arrested for starting a brawl in a Waffle House, to be making decisions for the country and in a position where he's a role model for children?
No individual is perfect, all politicians have flaws (some more than others), but we should still be searching for the best of us to be placed in positions of leadership.
And Kid Rock, who grew up on 6-acre estate with an apple orchard but has spent much of his life posing as some sort of rebel "redneck," doesn't really meet the mark.