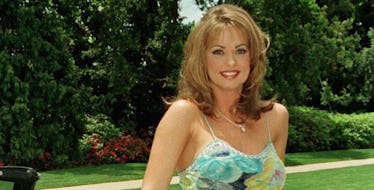 Tabloid Allegedly Paid Playboy Model $150k To Kill Story About Trump Affair
REUTERS
The company that owns National Enquirer, which happens to support Donald Trump, reportedly paid a former Playboy model $150,000 to tell the story of her alleged affair with Trump but never published it, according to the Wall Street Journal.
Some believe that American Media Inc. (AMI), which owns the Enquirer, never ran the story so it could protect the Republican presidential nominee.
In other words, it only paid the former Playboy model -- 1998 Playmate of the Year Karen McDougal -- for exclusive rights to her story so they could stop it from getting out.
Quashing stories that way is known in the tabloid world as 'catch and kill.'
This is McDougal with Playboy's Hugh Hefner back in May 1998.
The alleged relationship between Trump and McDougal occurred back in 2006, roughly a year after Trump got married to his current wife, Melania.
This was also about a year after Trump bragged about sexual assault to Billy Bush while on a bus.
According to the Journal, McDougal was under the impression the story would be published but AMI denies ever paying her for such a story.
In a statement, AMI said,
AMI has not paid people to kill damaging stories about Mr. Trump.
Instead, AMI claims it paid McDougal for two years' worth of fitness columns and magazine covers.
Hope Hicks, a spokeswoman for the Trump campaign, said allegations of an affair between Trump and the former Playboy model are "totally untrue."
McDougal reportedly signed a contract with AMI that granted it exclusive rights to the story, and would require her to pay $150,000 in damages if she posted the story on social media or did interviews with other publications about it.
American Media Chairman and Chief Executive Officer David J. Pecker and Trump are close friends, and the National Enquirer has not only endorsed the real estate mogul but also published articles written by him during the election cycle.
Pecker reportedly flies from Florida to New York on Trump's private jet and back in 2013, Trump tweeted Pecker should take over Time Magazine.
So, yeah, Trump and Pecker are pretty much BFFs.
This isn't the first time Trump's name has turned up in a story involving extramarital relations.
The New York Billionaire had a well-documented affair with his second wife, Marla Maples.
Multiple women have also accused Trump of assault.
Meanwhile, a recent poll showed the vast majority of Americans (82 percent) are "disgusted" with the 2016 presidential campaign.
You can hardly blame them.