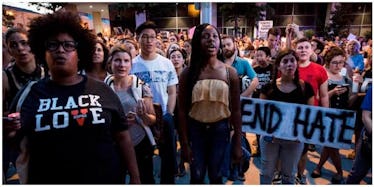 These Moving Photos Of Vigils For Charlottesville Are Restoring Our Hope
ZACH GIBSON/AFP/Getty Images
In the wake of the terror that fell upon Charlottesville, Virginia this weekend, among the devastation and the fear, there are small glimmers of hope — and photos of the Charlottesville vigils prove it. Many are coming together to show their solidarity with the anti-racist counter-protesters who put their lives at risk at a white supremacist Unite the Right rally on Aug. 12. Events and actions have thus far included destroying Confederate monuments and holding vigils for Heather Heyer, the anti-racist protester who fell victim to right wing violence.
Paralysis in the face of hate is understandable, of course. But the country seems to be at a tipping point, a moment of moral reckoning in which we can decide whether we fall back and let our history of white supremacy and hate win, or whether we fight back in the name of equity and love, and take this opportunity to start righting wrongs. It is okay to feel sad and scared. This is a scary time in our nation's history. But, cliché though it may be, I'm reminded of the Mr. Rogers quote about tragedy: "Look for the helpers. You will always find people who are helping."
And people are helping. We've gathered photos of Charlottesville vigils around the country and the world to remind everyone that even in the wake of tragedy, the world isn't all bad.
And if these photos inspire you to join a vigil or a political action, there is a handy little website that allows you to look up vigils and other Charlottesville-related events near you, run by Indivisible Guide in partnership with a plethora of nonprofits and political action groups.
Senator Chris Murphy posted pictures of a vigil in Connecticut that droves of supporters showed up to, despite a last-minute call to action.
Representatives from the Southern Poverty Law Center (SPLC) attended a Montgomery, Alabama vigil.
At an impromptu action in Durham, North Carolina, activists toppled a Confederate statue.
This is happening all over the U.S. as a result of this weekend's events.
Protesters took photos with the mangled pile of iron, and though several protesters have been arrested, there is a legal fund to help at least one of them out.
In New York City, actor Mark Ruffalo and documentary filmmaker Michael Moore held a vigil outside of Trump Tower on Aug. 15.
Moore, who is in New York doing a one-man show on Broadway, reportedly led audience members to the vigil after his show finished.
In fact, there's another vigil-cum-protest planned for Trump Tower tonight, Aug. 16.
Even though President Trump has retreated to his New Jersey golf resort, you might be able to see more celebrities, and maybe even the giant orange rat balloon that two New York art gallery owners dreamed up.
Mountain View, California saw at least a few dozen people show up to show down hate.
Hundreds attended a vigil in San Diego, California with candles and signs.
Some of the vigils have received threats from white supremacists.
Sadly, a vigil planned to for Aug. 13 at the University of Virginia campus had to be cancelled due to "credible threats." The event was organized in remembrance of victim Heather Heyer, who was killed when a man seen at the far-right rally drove his car into a crowd of protesters.
But they held a Facebook live event, and people showed up in solidarity with the victim anyways.
During Heather Heyer's memorial service on Aug. 16, her mother, Susan Bro, gave a moving speech about her daughter's legacy.
In the speech, Bro said, "They tried to kill my child to shut her up. Well guess what? You just magnified her."
Approximately 300 showed up to a Portland, Oregon vigil, held in front of City Hall.
The event was organized by the Portland chapter of Democratic Socialists of America.
There are even vigils outside of the country.
St. John's, Canada is all the way in Newfoundland, and the CBC reported that more than 100 people showed up to honor the Charlottesville victim.
Galway, Ireland showed up as well.
All over the nation and the world, people are saying that people like Heather Heyer will be not be silenced.
Since Heyer's death on Aug. 12, there have been and will continue to be many who show up against hate and against the far right violence that unfolded in Virginia over the past weekend. These vigils show that in a very real way.
And it's more important than ever to show up in any way we can and say: we're here, and we're not going anywhere.