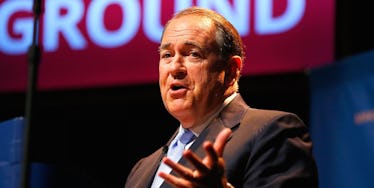 Mike Huckabee Says He's Boycotting Frito-Lay Over LGBT Pride Doritos
Getty Images
No one thought it was possible, but Republican presidential candidate Mike Huckabee just took his homophobia and intolerance to an entirely new level.
Huckabee is boycotting Doritos for exhibiting solidarity with the LGBT community, TIME reports. In the process, he denies himself a delicious snack while offering further proof to the entire nation what an abhorrent person he is. Well done, sir.
Doritos' parent company, Frito-Lay, partnered with the It Gets Better project, which campaigns against LGBT-bullying among youth. Up until it ran out of supplies due to popular demand, the campaign would send you a bag of rainbow Doritos for donating $10 or more.
This is not a joke, it's real life: A man running for president of the United States is angry at a bag of chips (a beautiful rainbow-colored bag of chips).
THANK YOU, #DoritosRainbows have all been claimed! But keep sharing your support w/ @ItGetsBetter #BOLDANDBETTER pic.twitter.com/s0dzF4ZwQz — Doritos (@Doritos) September 18, 2015
Huckabee, a former Baptist pastor, continues to make his anti-LGBT views abundantly clear, vehemently opposing same-sex marriage. He even wants to prevent same-sex couples from adopting.
He also offered vocal support to Kim Davis, the controversial Kentucky clerk who continued to make headlines after denying marriage licenses to same-sex couples.
Accordingly, Huckabee's opposition to this campaign involving Doritos comes as no surprise, but it doesn't make it any less ridiculous. In particular, Huckabee finds it problematic the It Gets Better project associates with sex columnist and gay activist Dan Savage, who Huckabee says exhibited anti-Christian sentiments in the past.
Huckabee called for the company to disassociate itself with the It Gets Better campaign, TIME reports. He also called on all Christians to boycott the company's products.
Savage responded to these developments, stating,
It's hilarious to read that 'we're gonna boycott Doritos.' Michelle Obama's probably going to call to thank me for getting so many right wing nuts to give up snacks. Maybe they'll be a little thinner... I don't see how a gay bag of chips limits anyone else's religious freedom. You don't have a right to live in a world without bags of gay chips, and it doesn't infringe on anyone's private beliefs or practices if there's a bag of gay chips out there.
Many on Twitter also found the news surrounding Huckabee's anti-Dorito stance quite amusing.
It's 1 thing if gays destroy sanctity of marriage but I draw line when they want my high fructose corn syrup snacks. http://t.co/Nz86AmyJll — Arash Karami (@thekarami) October 6, 2015
BEST. ELECTION. EVER "Why Mike Huckabee Picked a Fight With Frito-Lay Over Gay Doritos" http://t.co/K8AAc5tPAZ — Michael Cohen (@speechboy71) October 6, 2015
"GayDoritos" even has its own Twitter account at this point (though it's not verified).
We're here. We're queer. We're crunchy. #gaydoritos #tastetherainbow — GayDoritos (@GayDoritos) September 18, 2015
Rainbow Doritos (LGBT pride): 1, Mike Huckabee (intolerance): 0
Indeed, Huckabee's anger over the Rainbow Doritos is emblematic of his increasingly out-of-touch stances on a wide array of issues. It's no shock he's at less than 3 percent in national polls.
Citations: Why Mike Huckabee Picked a Fight With Frito-Lay Over Gay Doritos (TIME), What does Mike Huckabee believe? Where the candidate stands on 10 issues (PBS), 2016 National Republican Primary (Huffington Post)