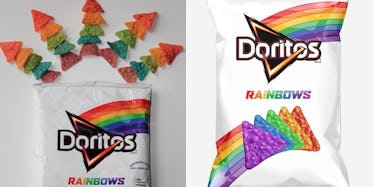 These New Rainbow Doritos Are Raising Awareness For The LGBT Community
Doritos released a new snack honoring the LGBT community. The snack is inspired by the pride flag and features the iconic rainbow color scheme.
The limited edition product is part of the It Gets Better project. Donors who choose to support the campaign by donating $10 or more will receive the new Doritos Rainbows chips.
Aside from the Frito-Lay brand's new line of chips, supporters are urged to raise awareness about the movement by using the hashtag #BOLDANDBETTER throughout their social media channels.
Interested in supporting the cause and testing the new munchies for yourself?
Check out the Doritos Rainbows website!
Doritos created a new limited edition line of chips called the Doritos Rainbows.
Each bag of chips features the iconic pride flag color scheme in support of the LGBT community.
The product is part of a campaign for the It Gets Better non-profit organization, which looks to raise awareness regarding the LGBT community.
Supporters who donate $10 or more to the cause will automatically receive a bag of the new Doritos Rainbows.
Citations: New 'Doritos Rainbows' to Support LGBT Community (ABC News)