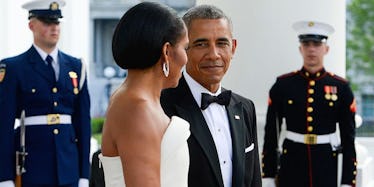 Michelle Obama Wishes Barack A Happy Birthday With The Cutest Throwback Pics
Leigh Vogel-Pool/Getty Images
The moment we've been waiting for has arrived, and Michelle Obama wished Barack a happy birthday with some adorable throwback pictures. The former first lady posted the pictures on both her Twitter and Instagram account. Barack Obama is celebrating his 56th birthday -- and his first one outside of the White House in eight years.
You can see Michelle's tribute here:
Obama wrote in her social media tribute to her husband of nearly 25 years,
Another year older, but the same phenomenal guy I married nearly 25 years ago. Happy birthday, @BarackObama -- we love you so much!
Um, yeah, I'm not crying, I swear, just, um, cutting some onions as I type this?
The pictures Obama posted seem to be from a long while back -- 2004, in fact. They show Barack blowing out the candles on a cake for his 43rd birthday -- so, 13 years ago. Michelle is holding the cake and Sasha and Malia, looking super adorable in pink dresses with pink hair accessories, are standing by cheering their father on.
In case your sense of timing fails you, 2004 was well before the Obamas got to the White House. But, that particular birthday was right after Barack Obama's journey to the White House really kicked off. About a week earlier, on July 27, 2004, then-Senator Obama gave a noteworthy speech at the Democratic National Convention. Many people cite this as the moment he got national attention and became a contender for the 2008 election.
So it makes sense that Michelle Obama would choose that particular birthday to throwback to. Obviously we're not with the Obamas, but I can imagine they're feeling nostalgic about their time in the White House and everything they did to get here. So, wow, jeez, those onions, amirite? I'm not crying!!!
Barack Obama is reportedly spending his birthday out at Martha's Vineyard, where his family spent many presidential summers. I hope they're relaxing and having a good time, especially with Malia heading off the Harvard in a few weeks. OK, yeah, now I really gotta go clean up those onions. Shut up!