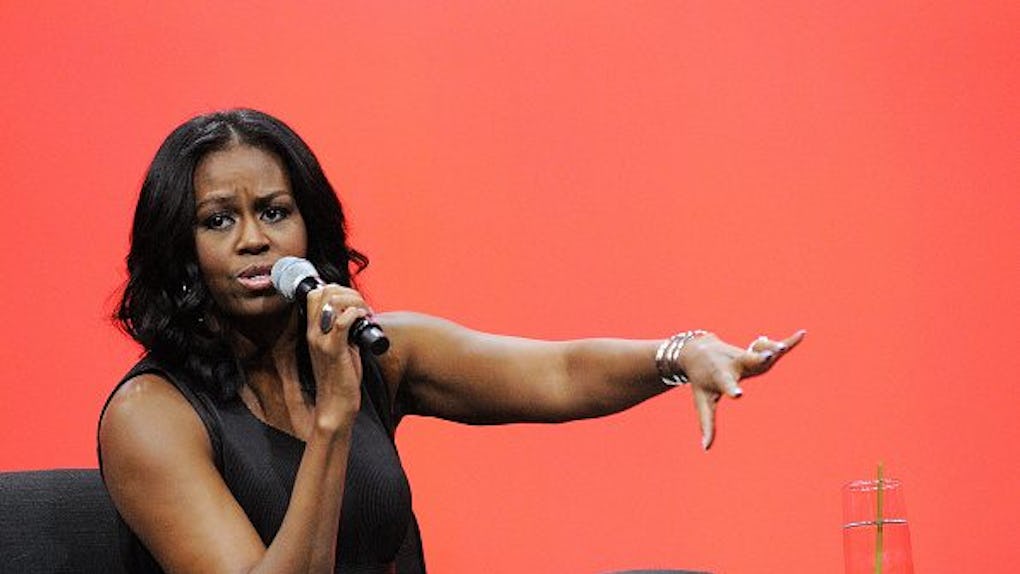 Getty Images
Video Of Michelle Obama Saying Female Trump Voters "Voted Against Their Own Voice" Is So Moving
Former First Lady Michelle Obama gave powerfully candid answers during a Q&A session with author Roxane Gay in Boston on Wednesday, Sept. 27, claiming boldly that any woman who voted for Trump had "voted against their voice." The video of Obama talking about female Trump voters displayed her continued allegiance to the Democratic candidate, Hillary Clinton. Obama attended the Inbound marketing and sales conference as a keynote speaker for the event. The former first lady also promoted and discussed her upcoming book, Chasing Light, which is to be released on Oct. 17.
The topic of voting for the presidential election came up when Obama talked about why she has been successful. Her success came because she stayed true to her "authentic self," she said, and she feels like not everybody does the same thing. She went on to say,
Quite frankly, we saw this in this election. As far as I'm concerned, any woman who voted against Hillary Clinton voted against their own voice. What does it mean for us, as women, that we look at those two candidates  … and many of us said, 'That guy? He's better for me. His voice is more true to me.' Well, to me that just says you don't like your voice. You like the thing you're told to like.
There is nothing subtle about that statement. Obama's frank and opinionated comments towards President Donald Trump come as no surprise. When the Access Hollywood video leaked of the president engaging in sexually aggressive conversation, Obama was campaigning with Clinton, the Democratic candidate, in New Hampshire, where she made an emotional speech at a rally. While holding back tears, Obama said the video had, "shaken me to my core in a way that I couldn't have predicted." She described Trump's language in the video as, "sexually predatory behavior," that was "painful" for women, parents, and citizens. She went on to say,
I can't believe that I'm saying that a candidate for president of the United States has bragged about sexually assaulting women.
And at the Democratic National Convention last July, Obama coined the famous phrase,"When they go low, we go high," in response to Clinton's opponents.
At the Inbound conference on Wednesday, Obama said those those thoughts about female voters and the election, which she never got to process while in office, were part of the inspiration behind her upcoming book. She said,
When you're in it, you don't have a moment, a second, to think. This is the first time in eight years, probably 10 years, that I'll have a chance to think back on what it all meant.
Her attendance at the Inbound conference has more people falling at her feet than before, if that's even possible. As if people didn't love Obama enough when she served as FLOTUS, some think she could be a worthy candidate for the Democratic party in the 2020 election. A few weeks again a former Bill Clinton pollster, Douglas E. Schoen wrote in an op-ed for The Hill where he said he thinks, as an analyst, "Michelle Obama is clearly the Democrats' best chance to reunite the party and win back the White House in 2020."
Despite her candor and critique of President Trump and his female supporters, Obama said that she still hopes the president and his administration will have success and that he be treated "more charitably than people -- and the Republican Party -- treated my husband," former President Barack Obama, while he served in the White House.
"We want the sitting president to be successful, because we live in this country," said Obama. "He is our commander-in-chief. He was voted in. We may not like it, but it happened."