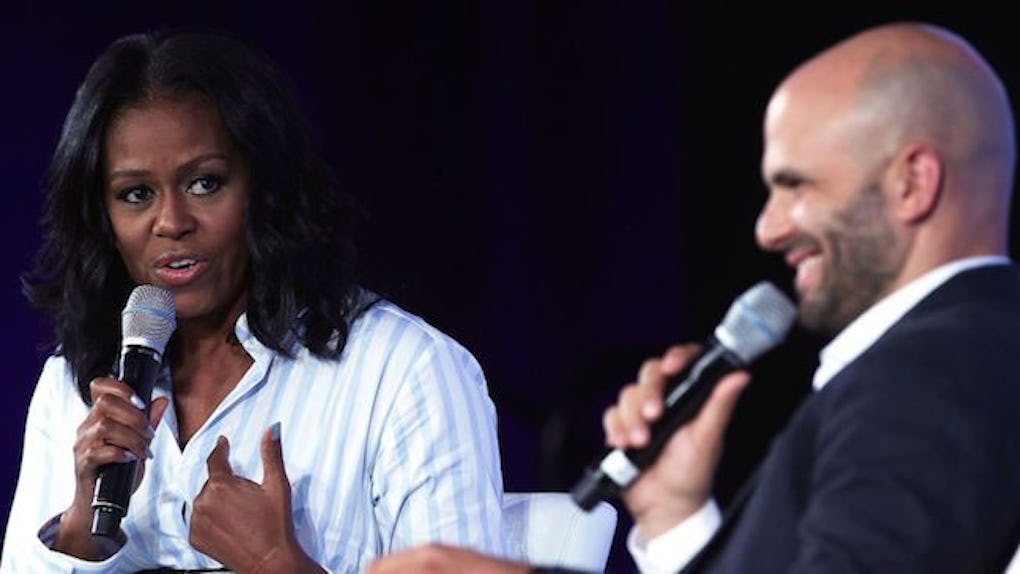 Alex Wong / Getty Images
Could Michelle Obama Beat Trump In 2020? Bill Clinton's Former Pollster Thinks So
Missing the former first lady already? You're not alone. As it turns out, some people think she'd be the best bet to serve the White House again -- but this time, she'd be at the helm. As he wrote in an op-ed for The Hill, former Bill Clinton pollster Douglas E. Schoen thinks Michelle Obama would dominate the 2020 election for the Democratic party.
Pretty much since the election ended and current President Donald Trump took office, Democrats, pundits, and concerned Americans alike been chattering about who might be stepping up to compete for the 2020 election nomination. And already, the competition looks pretty full, despite being only eight months into the president's first term.
Democratic Senators Kamala Harris of California and Elizabeth Warren of Massachusetts have been flagged as early options, and their campaigns are already in fundraising mode.
But Schoen doesn't seem to think these candidates would solve the problem. He writes,
This alternative plan requires a new, united opposition, led by a political leader with widespread popularity. The only person I can see accomplishing this would be none other than the party's most popular political figure: Michelle Obama.
The whispers of whether Obama might consider running for president began even before her husband's second term ended. Some have suggested it as a half-cracked fantasy that the first lady would ever run for office, and she herself has dispelled that notion. As Newsweek points out, when Oprah asked Obama the very same thing back in December, she put those queries to bed, saying:
I don't make stuff up, I'm not coy — I'm pretty direct. If I were interested in it, I'd say it.
She's also expressed that, after eight years in the White House, their family is not looking to return to the immensely demanding Washington lifestyle. Nevertheless, Schoen thinks she'd be the best candidate to run in the Democratic party. He wrote,
Michelle Obama is perceived as a strong, well-qualified leader with immense national popularity. Broadly, the polls show she is respected by the American people and by the near-entirety of the Democratic Party.
Schoen makes clear that he's in no way personally endorsing her as a candidate and stresses his concerns with the Obama administration. But Schoen's analysis is based on polling numbers and strategies that might avoid the shortcomings that buckled Democratic candidate Hillary Clinton in 2016. He cites a lack of any controversies or ethical Achilles' heels for Mrs. Obama, and focuses on how popular she remains among the American people. According to Schoen, her favorability ratings far outpace the sitting president's, for example. And not only could she outdo Republican candidates, but she would potentially rate higher than the other Democratic names already flagged as possible candidates.
Schoen notes that if you've got nothing but fondness for the former first lady, you're joined by a lot of Americans who gave Michelle a 68 percent approval rating -- higher than her husband or former vice president Joe Biden. (As of July 8, Melania Trump's approval rating was only 51 percent, according to a Fox News poll.)
If some were holding out hope that, over time, Trump's presidency would wear down the Obamas and convince them to reconsider a 2020 run for president, it's not looking likely. Harpers Bazaar reports that Obama again reiterated her position on Aug. 27 at a Q&A during a conference in Florida, saying:
Politics is tough, and it's hard on a family. I wouldn't ask my children to do this again because, when you run for higher office, it's not just you, it's your whole family.
Her own clear insistence on the matter hasn't done much to dissuade dreamers. (This guy even made... T-shirts... ?)
It's unclear what impact, if any, the repeated narrative of her presidential potential might have on Obama. Nothing is certain until it's happened, and some point to the continued unpredictability of this administration as evidence anything can happen. Polls aren't everything, though, and personally: whatever Michelle decides to do with her life will probably still be 1,000 times cooler than most of us.