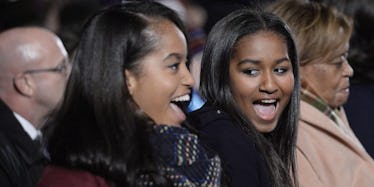 Michelle Obama Reveals Adorable Way Daughters Spent Last Night In White House
Getty Images
If you were in the first family, and it was your last night in the White House after living there for the larger part of a decade, what would you do?
Would you hit up the bowling alley (yes, the White House has one), take selfies in the Oval Office, use one of the 35 bathrooms in the house you hadn't gotten to yet or perhaps have a water-gun fight in the Rose Garden?
The White House has 135 rooms, so there's certainly no shortage of things to do there.
Michelle Obama just revealed what her daughters did on their last night, and it might surprise you.
Malia and Sasha Obama had the most low-key final night in the White House.
The first daughters spent their last night in the residence of the President of the United States having a pizza night and slumber party with friends.
Malia, 18, and Sasha, 15, apparently were not looking to do anything extravagant.
Obama revealed this during a question-and-answer session at the annual American Institute of Architecture conference.
She said,
They had a sleepover, because of course on Inauguration Day -- because my girls are so normal -- they're like, 'Well, eight girls are gonna be sleeping here because it's our last time, and we want pizza and we want nuggets.' And it's like, really?
Honestly, pizza and nuggets in the White House sounds fantastic.
The former first lady said it was emotional for her girls to depart the White House.
Malia and Sasha were very young when they moved into the White House, and it had been their home for the past eight years.
According to Michelle, it was difficult for them to say goodbye.
She said, "So that moment of transition, right before the doors opened and we welcomed in the new family, our kids were leaving out the back door in tears, saying goodbye to people."
Michelle Obama tried to keep her cool for a very understandable reason as she departed the White House.
The former first lady jokingly said,
I didn't want to have tears in my eyes because people would swear I was crying because of the new president.
She also said she has no plans for running for office in the future, as campaigns are tough for families.
"I wouldn't ask my children to do this again," Obama said.
But it's safe to say a lot of people hope she'll change her mind, as she left the White House with a 68 percent favorability rating.
Citations: Michelle Obama reveals how daughters Malia and Sasha spent final White House night (TODAY), Michelle Obama Explains Why She Served Some Side-Eye At Trump's Inauguration (HuffPost)