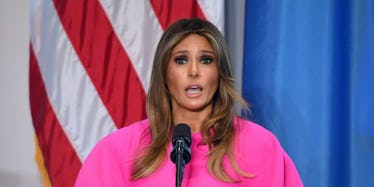 Melania Trump's Bullying Speech At The UN Is Getting Her Roasted On Twitter
Don Emmert / Getty Images
At a luncheon on Wednesday, Sept. 20, at the United Nations general assembly, the country's first lady gave a speech about the welfare of children that is garnering considerable backlash. Melania Trump's U.N. speech condemning bullying has stirred an onslaught of people calling hypocrisy on social media. The tweets about Trump's U.N. speech certainly don't hold back.
The speech, portions of which were released early, was seen a chance for the first lady to validate and clarify her own campaign against childhood bullying. The campaign was announced in November of 2016, but has been all but stagnant since its inception, drawing criticism and raised eyebrows from many corners. People have accused the Trump family of hypocrisy given that the president's own record shows a disturbing trend of bullying remarks both online and off.
Mrs. Trump endured scorching criticism as her condemnation of bullying came just hours after her husband, in an inflammatory U.N. speech, spoke disrespectfully of multiple world leaders, even calling North Korea's leader a name.
Aside from his comments about and to women (which are too numerous to list here), the president has mocked reporters, people with disabilities, and service members. Regular Twitter tirades leave a laundry list of names in their wake, including, oh, world leaders, political opponents, highly respected FBI directors, members of his own party, most mainstream news outlets and reporters, and generally anyone who criticizes him.
So when his wife addressed the spouses of foreign leaders at the U.N. on Wednesday, people were all over the irony in her words. In regards to influencing children, she said,
As adults we are not merely responsible, we are accountable. I hope you will join me in recommitting ourselves to teaching the next generation to lead and honor the golden rule, do unto others as you would have do unto you. Which is paramount in today's society, and my focus as first lady. It reminds our generation's moral imperative to take responsibility for what our children learn.
Trump called on foreign leaders to serve as role models, stressing "kindness, mindfulness, integrity and leadership."
It didn't take long for the Twitter backlash to begin.
This sampling gives a sense of what social media users thought about her speech.
When the first lady invoked the golden rule, it was met with a virtual mix of applause and laughter (mostly laughter). While some praised Trump for bringing attention to the issue on the world stage, many more people laughed off the fact that she would preach equal treatment when her husband has such an established pattern of treating others poorly.
Others focused on the fact that FLOTUS' timing was unfortunate given that her husband, just a day ago, threatened North Korea's leader.
Users also made jokes aplenty, comparing Trump's speech to the fiery statement made by Bill Cosby's wife Camille following his mistrial, the insinuation being that neither of them stood up to the inappropriate actions and behaviors of their husbands.
Some people apparently even thought the first lady's speech was so off base that it was made in jest.
One user compared Trump's speech to the actor famous for embodying outrageous, caricatural fictional characters.
Some also called on Trump to give her words of wisdom to her husband -- though it seemed people were serious about that.
More than anything, people latched on to how Trump made no mention or acknowledgment of her husband's own actions.
The photo of John Kelly appearing to cover his face during President Trump's speech at the U.N. that went viral became the butt of more jokes.
Some tweets suggested that the first lady's remarks were "tone deaf," an understandably sentiment given the comments made just a day prior.
A former senior advisor to President Barack Obama even weighed in.
To be fair, the issue of childhood wellbeing, bullying, and safety, in particular, is a noble cause to take up. ABC reports that Trump said she'll be reaching out to other leaders in the coming months for guidance to move her anti-bullying campaign forward.