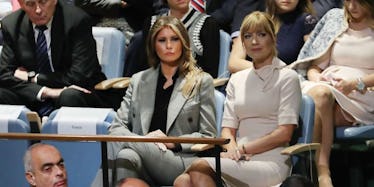 FLOTUS Is Giving An Anti-Bullying Speech At The U.N. And We're Already Rolling Our Eyes
Spencer Platt / Getty Images
At the United Nations on Wednesday, Sept. 20, first lady Melania Trump will give a U.N. anti-bullying speech during a luncheon, Politico reports. FLOTUS announced her anti-bullying campaign in November as the cause she would champion per first lady tradition. But thanks to her husband's behavior, it appears Trump will have a tough job getting people to take her remarks seriously.
For months, many have called on Melania Trump, as the wife of President Donald Trump, to temper his inflammatory behavior. And if she's been trying, it hasn't seemed to work. Her U.N. speech on Wednesday will come a day after her husband called the leader of North Korea, Kim Jong-Un, a "Rocket Man" and threatened to "totally destroy" the country if provoked.
Beyond influencing the president, many people have called the first lady's campaign ironic or downright hypocritical given her husband's long history of personally attacking people on Twitter. Since the inauguration, President Trump has made inappropriate comments to four women already (that we know of), some of which included name-calling and body shaming. That's to say nothing of his decades-long pattern of sexist behavior towards women, and men certainly haven't been immune to his scorn and ridicule. So it's understandable that people are giving a sidelong glance at the first lady's planned remarks on bullying.
According to Melania Trump's press secretary, Stephanie Grisham, Wednesday's U.N. speech will cover a host of issues related to children and their well-being. She tells Elite Daily,
 The speech centers around what we can do as a global community to ensure children have the opportunity to grow up as happy, productive, and morally responsible adults.
Pre-released excerpts of the speech, according to ABC News, read,
Together, we must acknowledge that all too often it is the weakest, most innocent and vulnerable among us, our children, who ultimately suffer the most from the challenges that plague our societies. Whether it is drug addiction, bullying, poverty, disease, trafficking, illiteracy, or hunger, it is the children who are hit first and hardest in any country. No child should ever feel hungry, stalked, frightened, terrorized, bullied, isolated or afraid, with nowhere to turn. We need to step up, come together, and ensure that our children's future is bright.
When her own son Barron was attacked online for his wardrobe choices, Trump thanked Chelsea Clinton for jumping to his defense. But even since then, relatively little has happened on the anti-bullying campaign front. Trump's press secretary told USA Today in May that the campaign's staff was up to 10 people, and the first lady was "being very thoughtful when it comes to building out her initiatives," citing quality over quantity as the reason for the slow hiring process. One expert interviewed said this was an unusually slow pace compared to previous first ladies.
In an interview with Mic this week, Hillary Clinton said she didn't think Trump was doing enough with her platform to address the issue of cyberbullying. According to the article, Clinton said of the anti-bullying platform,
I think it's a really important issue, and if she were serious and able to follow through on it, I bet there would be so many people who would be willing to try and help her out on that.
As CNN reports, Trump expressed interest in issues like women's equality and empowerment, access to education, and childhood welfare, but has yet to release a formal platform detailing what exactly she'll do as first lady.
As to whether today's speech at the U.N. helps elucidate her plans to tackle bullying and other issues facing children worldwide, it's anyone's guess. But the remarks her husband continues to make, combined with the platform's elusiveness and sluggish pace, have led many to cast doubt on what exactly will be done to help the children she purports to stand for.