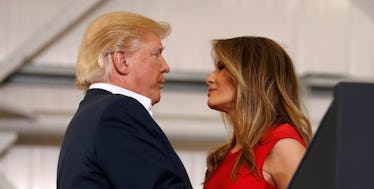 Melania Shares Weird Details About Sex Life With Trump In Resurfaced Video
REUTERS
A resurfaced audio clip reveals details of Melania and Donald Trump's sex life.
So if you've ever wondered about that topic, first of all, why would you do that to yourself? Second of all, here are some alleged answers.
I'm really sorry to ruin your day by being the one to share this information. But honestly, you're the one who clicked here, so whose fault is it, really?
OK, so you really want to know about the Trump's sex life?
Fine. Here's the scoop: Back in 1999, Donald Trump was running for president. Yes, it's happened multiple times.
He hopped on the radio to chat with his best friend Howard Stern.
The two public misogynists are chatting and bring up Trump's then-girlfriend, Melania. Trump mentions that she's nearby, and Stern tells him to put her on the phone. He demands,
Let me talk to that broad in your bed.
Melania gets on the phone.
Stern tells her to "put on your hottest outfit" to go out with him and Trump. Then he asks her what she's wearing at the moment. She says,
Not much.
Stern asks if she's "nude" and she tells him, "Almost."
Stern asks if she has sex with Donald every night. She tells him "even more." Melania adds they have a "great, great time."
Stern goes on being a sexist creep, talking about the possibility Melania steals money from Donald, what she wears to the beach and her "very nice chest for a model."
At one point in the interview, Stern asks Donald to have sex with his girlfriend on the radio to increase his ratings. Trump, unfazed, replies,
Wouldn't that be nice?
And then the men go on discussing sex with the woman right there with them.
In this context, it makes sense that Melania was so unsurprised by the tape of Trump saying he grabs women by the pussy.
When that tape was revealed last fall, Melania shrugged it off as "boy talk."
I hate that this is a legitimate topic for us to discuss, but it has been part of Trump's public persona for as long as he has been public.
And this should not be used to slut-shame Melania. It's about what white men talk about in public, knowing nothing can touch them.
It does demand one question: How in the hell is Howard Stern still on air with all the sexist bullshit he spews?
Well, the answer to that, I suppose, is noting that Trump ended up president despite (or perhaps because of) all the sexist bullshit he spews.
Please enjoy the next 363 days of International Men's Day.
Citations: The Trump Files: Donald and Melania's Creepy, Sex-Filled Interview With Howard Stern (Mother Jones), This is what Melania has to say about her sex life with Trump (Indy)