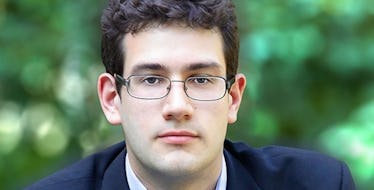 Meet The Millennial Who Wants His Generation To Take Over Congress
It's no secret American politics are an absolute mess at the moment.
Republicans and Democrats don't get along whatsoever (not that they ever have, but the animosity has reached historic proportions). Congress and President Obama can't seem to find common ground on anything, except for perhaps an intense disdain for one another. There's even infighting within both parties, particularly among Republicans.
It would all make for a great reality TV show. There's drama, tragedy, humor and, at times, complete insanity. Sadly, however, these people are responsible for the wellbeing, prosperity and future of our nation. We can't afford to sit idly by, watching the country descend into irrevocable disunity.
How do we fix this?
Campaign finance reform? Increased voter turnout? What's the answer?
David Burstein, a Millennial author, speaker, and political and social commentator, has a suggestion: elect members of Generation-Y to Congress.
This is precisely why he's founded Run for America (RFA), an organization that seeks to get Millennials more engaged in politics by changing this generation's perception of public service.
According to its website, RFA is a citizen-powered movement that will recruit, train and work to elect a new generation of leaders to America's legislature.
In theory, Burstein's project is admirable. Millennials are the largest and most diverse generation in American history. They're also generally progressive, seemingly less bipartisan and more open-minded than previous generations. Perhaps this is the generation American politics has always needed.
Yet, the fact remains that this generation is quite apathetic toward politics and the American political system.
During midterms, for example, Gen-Y only comprised about 13 percent of the electorate. In its defense, voter turnout was terrible across the nation, but this is still disconcerting. Moreover, it might lead one to be somewhat pessimistic about Run For America's aspirations.
Many Millennials don't seem to care about voting, so why would they run for public office?
Burstein remains undeterred by these factors, however. Speaking with Elite Daily, he stated:
At it's core, serving in public office is the highest form of service and impact you could ever imagine... We've stopped thinking about it that way because so few things have been getting done lately. But all of the things that Millennials are doing, going to start non-profits and companies, they're all actively seeking to have an impact. We believe it's time to reframe for people how running for office provides even more opportunity to have an impact on millions of peoples lives.
Simply put, Burstein believes Millennials have a sincere desire to have a positive and palpable impact in the world. He also contends that public service is the greatest means of achieving these goals, and is confident he can convince other members of his generation to embrace this notion.
Ultimately, 12 candidates will be selected, regardless of political affiliation. Burstein says RFA is looking for individuals who have backgrounds as leaders, entrepreneurial spirits and innovative perspectives.
Interestingly, he also states RFA is looking for people who don't "desperately want to run for office," but still desire to make a difference. In Burstein's view, this will make them more willing to take risks.
Millennials are arguably the most optimistic generation in American history. They certainly have the capacity to redefine American politics, but the question remains if they feel public service is the best route to do so.
Think you have what it takes to get elected to Congress? Apply here.