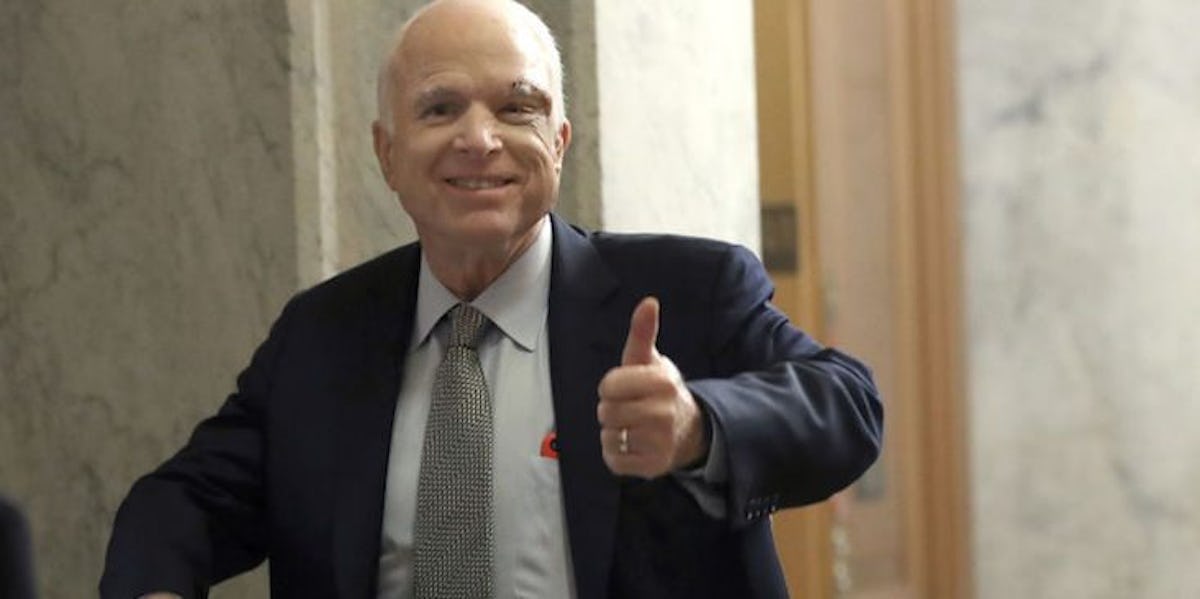 McCain's Vote Against GOP Obamacare Repeal Sends Twitter Into A Frenzy
Win McNamee/ Getty Images
It's been one heck of a night, and Twitter is feeling a little overwhelmed after Senator John McCain voted against the GOP's "skinny repeal" health care plan around 1:30 a.m. on Friday, July 28. As soon as McCain joined Republican Senators Susan Collins and Lisa Murkowski in saying "no" to the GOP's plan, Twitter freakin' lost it. Needless to say, there are tons of memes and tweets about McCain's vote against the "skinny repeal" that are definitely worth seeing.
But first, let's go over what happened last night so you aren't completely lost looking at all of these tweets and memes about the repeal. For starters, the "skinny repeal" was created by Republican senators in effort to slowly repeal and replace the Affordable Care Act (ACA, aka Obamacare). They made this after initially failing to make a health care plan that would get enough votes.
The "skinny repeal," presented by Senate Majority Leader Mitch McConnell on Thursday night, would take away some key parts from Obamacare. For instance, it would defund Planned Parenthood for an entire year.
Now that you know a little more about the "skinny repeal," you'll understand why Twitter completely lost it when McCain voted against it. He was one of the three no votes from Republicans that blocked the bill.
This is what "shook" looks like, everyone.
 Can we get a mic drop?
PAUSE: Let's all take a quick moment.
Let's give them a round of applause, shall we?
Obamacare is still the law of the land.
"That's over. It's cancelled."
#FridayFeeling, baby.
"John McCain's message to Trump..."
We can assume Trump looked something like this...
McCain wasn't alone, though.
Do not forget about Republican Senators Susan Collins and Lisa Murkowski.
OK, so... you get the point. Twitter was pretty ecstatic that John McCain said "no" to the "skinny repeal," along with Collins and Murkowski.
Something tells me the Twitterverse isn't going to calm down anytime soon.