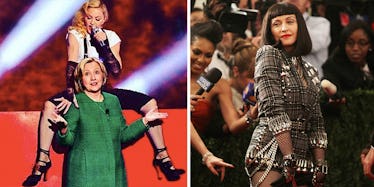 Madonna Says She'll Give You A Blowjob If You Vote For Clinton: 'I Do Swallow'
Instagram/REUTERS
Madonna, a woman famous for both her musical prowess and her years-long sudden affectation of an English accent halfway through her life, has made an announcement:
She will give anyone a blowjob who votes for Hillary Clinton.
I take my time. I have a lot of eye contact. And I do swallow.
The statement came before introducing Amy Schumer on Tuesday night to her audience at Madison Square Garden.
She said,
I'd better get off now because someone insanely funny is about to be on this stage, ladies and gentlemen. One more thing before I introduce this genius of comedy.
She explained it quite clearly:
If you vote for Hillary Clinton, I will give you a blowjob. OK? And I am good.
Check out her saying it in the video below:
She added in some disclaimers regarding her talent and experience in the form:
I take my time. I have a lot of eye contact. And I do swallow.
Now, this is obviously a funny and provocative thing to say, but she's also implicitly giving a nod to the vast unacknowledged undercurrent of this election is it is a conflict of genders.
This election, at its core, is a battle of the sexes.
This map from FiveThirtyEight shows how the country would vote if only men voted. It's pretty much the scariest idea ever.
The majority of men support Trump. And the majority of women support Hillary.
That an election can be split so soundly, even within the home, is needless to say, extremely troubling and speaks to a fundamental lack of communication and empathy between millions of people in this country.
So Madonna offering fellacio4votes is actually a pretty a loaded statement. (Get it? I said "load." I'm a genius.)
But I'd say we should put sexual bribery aside and men should just stop being monstrous and for once actually try and listen to the women in their lives who, en masse, fundamentally disagree about where the country is heading.