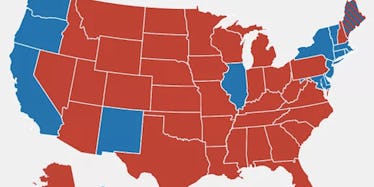 Side-By-Side Maps Show Just How Differently Men And Women Vote In The US
FiveThirtyEight
They say men are from Mars and women are from Venus. But this year, you can actually say that men are for Trump and women are for Clinton... according to the polls, anyway.
Nate Silver, statistician extraordinaire, has been following this year's presidential election in the same way he has followed other elections.
There is one facet in particular that has been standing out when it comes to the polls this year. Women are overwhelmingly not voting for Republican presidential nominee Donald Trump.
Instead, women are looking to Democratic nominee Hillary Clinton.
This is a historic year for women. Clinton is the first ever female presidential nominee for a major political party. Should she win in November, she will be the first ever female president of the United States.
But we've got more than just Clinton's current moment in history: We've got Trump's current moment in history. Trump is arguably the most openly sexist nominee in decades.
Last week, when a video came out of him gleefully discussing what amounts to sexual assault, news organizations made history by publishing terms like "pussy" and "tits" for the first time.
And women are reacting to this. A poll from Public Religion Research Institute showed that Clinton was losing to Trump by 11 percentage points among men, FiveThirtyEight reported.
But among women, Clinton was beating Trump by a massive 33 percentage points.
Silver showed us what this means in map form:
If only men were voting, Trump would win the election (350 electoral votes to 188). But if only women were voting, Clinton would win by a landslide (458 to 80).
This isn't entirely shocking.
First, as noted earlier, Trump is sexist. Second, women historically lean toward the Democratic party.
Across age groups, women are more likely than men to vote Democratic, Gallup reported in 2009. Then, Gallup found that 41 percent of women identified as Democrats, as compared to 32 percent of men who did.
There are a lot of reasons for this, including the fact that the Democratic party has historically been more open when it comes to women's rights, such as access to reproductive health, affordable child care and parental leave policies. The Democratic party also calls for equal pay protection.
But Trump is really expanding that difference this year.
Elite Daily and 50 other media organizations partnered with Rock The Vote to register 100,000 women to vote. You can register right here (and men can use it too) :
Citations: FiveThirtyEight, Gallup