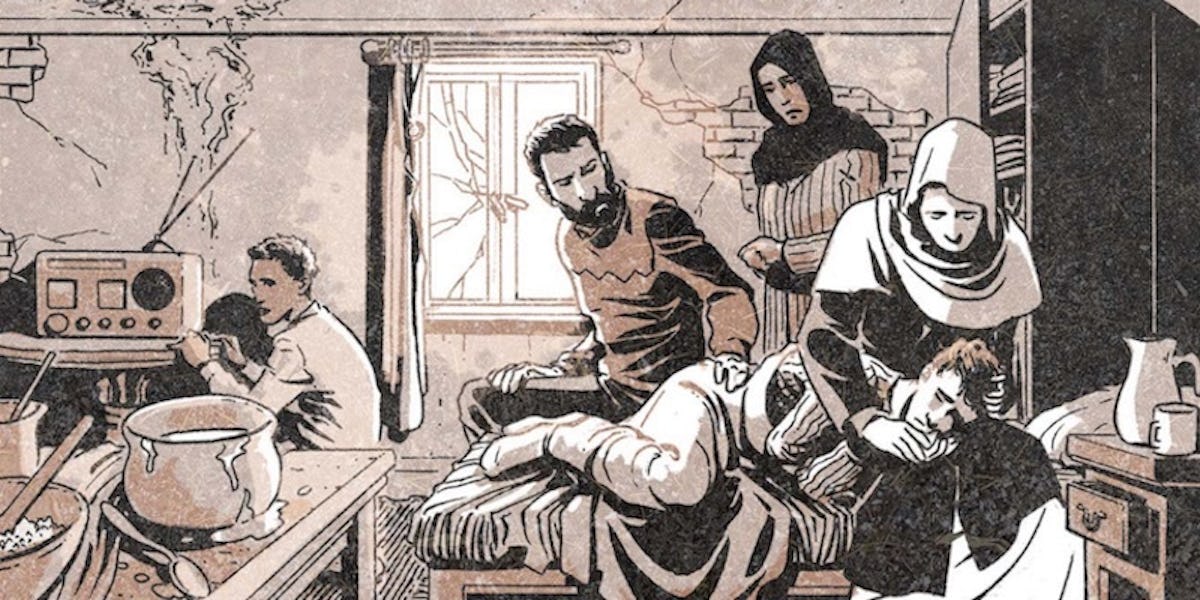 Marvel's New True-Life Comic Book Tells Heartbreaking Story Of Syrian Mother
ABC News/Marvel
On Monday, ABC News and Marvel released a new true-life comic book called "Madaya Mom," which offers an illuminating glimpse into the life of a woman trying to survive with her family in war-torn Syria.
The free digital comic book is based off "Syria Starving: A Family's Fight for Survival," which is a series of blog posts by an anonymous mother of five that ABC News began publishing at the beginning of this year.
Madaya – the Syrian city the comic book is named after – has produced some of the most heartbreaking stories and images to come out of the ongoing Syrian conflict.
The city has been besieged by Syrian president Bashar al-Assad for over a year, which makes it difficult for humanitarian aid to get in and people to get out.
In the opening lines of the comic book, the title character, Madaya Mom, describes the meager rations her family eats. This book offers us a glimpse into what people in Madaya – and elsewhere in Syria – are living through:
Today our one meal was rice and bean soup. Our bodies are no longer used to eating. My children are hungry but are getting sick, severe stomach pains from the food because their bodies aren't able to digest and absorb the food because they were hungry for so long.
In September, aid was delivered to Madaya for the first time in months. But aid meant for other cities was blocked or delayed.
Madaya's war-induced isolation also means it's very difficult for journalists to get inside, in order to show people what's happening there.
It's not just Madaya, either: It's generally difficult and dangerous for journalists to cover the conflict in Syria.
This is where the inspiration for the comic came from. Its creators wanted to give people a visual representation of what life is like in Syria, as the country has been consumed by war for half a decade now.
It might seem strange for a story like this to be told via a comic book. But as Marvel's editor-in-chief, Axel Alonso, put it,
We are not a genre, we are a medium. We are a way of storytelling. Marvel comic books span every genre known to man and why not journalism?
The comic book is illustrated by Dalibor Talajić, who grew up in the former Yugoslavia. He is no stranger to what it means to see your country fall apart.
Alonso said that Talajić was chosen because he would "bring a level of authenticity to the page because he is a survivor of war himself."
While he was initially surprised that Marvel wanted to take on this project – and was a little apprehensive about potentially exploiting the suffering of others – Talajić ultimately hoped he could use his own experiences to "personalize this immense suffering" via the comic.
He said,
Knowing that my own country went through war, I felt like there was a connection there, that I would know what to draw, that I wouldn't randomly invent endless explosions and everything but really try to capture the depression of it.
Talajić said that he hopes to get people to care about this conflict through his illustrations.
The conflict in Syria has claimed hundreds of thousands of lives, and has contributed to the worst refugee crisis of our era.
With so much going on in the world, it can be difficult to bring attention to the war and truly put it into perspective for people.
Comic books like "Madaya Mom," however, have the potential to draw in individuals who might not necessarily spend a significant amount of time paying attention to issues like the Syrian conflict.
This war has gone on for far too long, and it certainly won't end any time soon if people aren't aware about what's happening.
It's time we start paying attention.