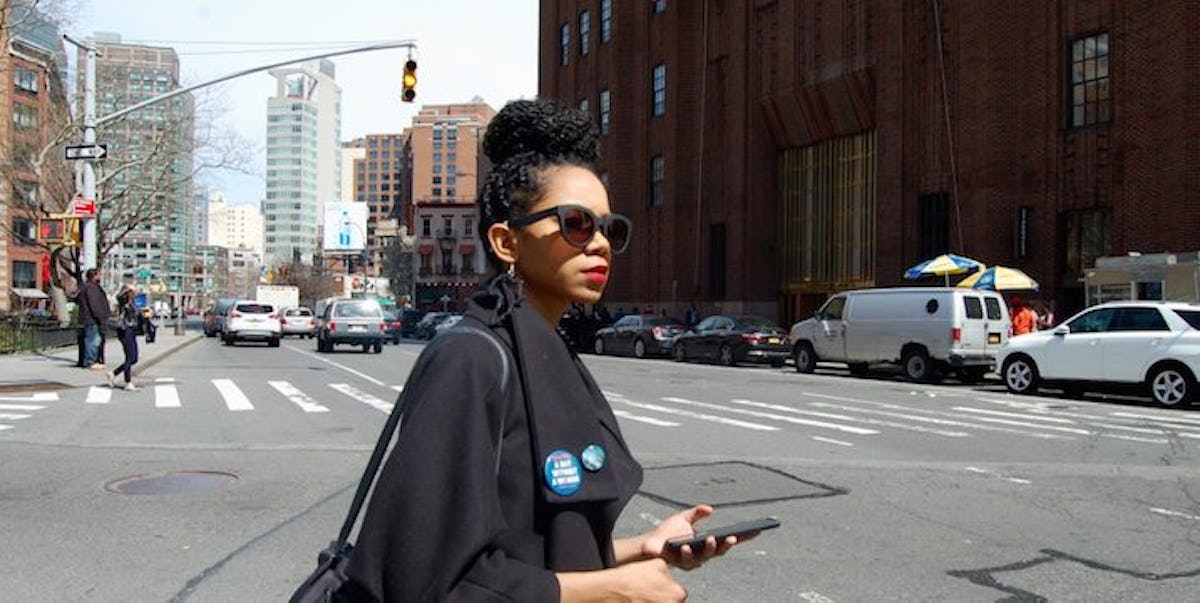 What It's Like To Spend A Day In The Life Of The Women's March Leaders
Paola Mendoza's son did not want to put on his socks.
"He doesn't like to put on his socks, so every morning it's like a 20-minute fight for his fucking socks," Mendoza said.
The 4-year-old needed his socks for soccer camp, which was keeping him busy during spring break. Mendoza's morning was already off to a rough start -- the sink got stopped up and a plumber couldn't come till the next day.
"Today I just did not have the patience for the socks at all," she said. "I was so mad about the fucking socks."
Her partner, Twitter-famous Michael Skolnik, was away on business. A babysitter wouldn't come around till after soccer camp.
Eventually, the socks got on the feet, and Mendoza brought her son to camp. She got to her office in a shared workspace in Prospect Heights, Brooklyn, at 12:30 -- much later than when her son's in school.
It was the kind of hectic morning working mothers everywhere can understand. And Mendoza was off to further help those working mothers in her capacity as artistic director of the Women's March.
The Women's March itself happened on January 21st, but a group of women are still working every day on more actions and events to support women in the Trump presidency.
"We realized we couldn't just pack up and leave, so we continued," Mendoza said.
In the three months since the massive inaugural march, the Women's March has continued as a movement with 10 Actions / 100 Days for the first 100 days of Trump's presidency.
They've hosted events and demonstrations, inspired calls to Congress and letter-writing parties and gotten arrested en masse in New York City during a march.
Most of the organizers were not full-time activists before the election. Now, however, their lives have become a constant juggling of careers, family and the March.
I spent a day each with Mendoza and Tabitha St. Bernard-Jacobs, the youth and family coordinator of the Women's March, in mid-April.
Both women have a young child and partner and live in Brooklyn. As you'd expect, their partners share care-taking responsibilities in their families.
They have careers aside from the Women's March -- Mendoza as a filmmaker and business co-founder and St. Bernard as a clothing designer. Their careers allow the flexibility needed to work on the Women's March, which is often a full-time job itself.
I met St. Bernard at the Brooklyn Fashion + Design Accelerator in South Williamsburg.
She'd also had a busy morning as her 2-year-old son was sick. Her husband's family was in town for Passover, so they were taking care of him for the day.
The accelerator is where her fashion line, Tabii Just, gets made. The label is zero-waste, and St. Bernard is an advocate for workers rights. She tried out a few factories before finding one that both treated workers respectfully and treated the handiwork thoughtfully.
St. Bernard came to the Women's March because of fashion. Bob Bland, one of the first march organizers, is also in fashion, and she and St. Bernard knew each other.
"I felt like I didn't do enough before the election to make sure it didn't happen," St. Bernard said about her feelings after the election. She asked Bland how she could help.
Mendoza also came to the Women's March through a friend.
Her partner got connected first, and then her friend Carmen Perez became a national co-chair. Mendoza asked how she could help.
"I've come to find out, organizing a march and making a movie is very similar," Mendoza said. "You need kind of the same skill set."
Mendoza organized the artists, speakers and performers for the main march and is still working on various campaigns.
She and Skolnik are co-founders of the Soze Agency, a worker's owned business promoting socially-aware campaigns.
After working at that Brooklyn co-working office for a few hours, checking in with the employees -- a diverse group of young people -- and eating some Thai delivery for lunch, Mendoza was off to the WNYC -- New York Public Radio -- office in Lower Manhattan.
There, she was interviewed for an upcoming feature about activist organizers.
After checking in at Brooklyn Fashion, St. Bernard got on the subway to go to the Women's March office in Lower Manhattan.
"Trains are usually my email time," she said, clicking through her iPhone.
As youth and family coordinator, St. Bernard was having a busy week. The seventh action of the 10 / 100 Days is "We Belong Together," which is for children and families, and went on in April.
On the subway ride, St. Bernard checked in with organizers of a bus tour that took children from Miami to D.C. to support immigration policies that keep families together.
The Women's March recently got an office in a shared workspace in Lower Manhattan.
St. Bernard grabbed some lunch from a nearby deli -- sesame chicken, Brussels sprouts, potato latkes and salted nuts to snack on -- and got back to her emails on her laptop at the office.
Alyssa, the social media manager of the march, sat nearby, going over her own work.
The workspace has all the classics of political organizing -- giant pieces of paper, lots of notepads, Clorox wipes, markers, post-its and a white board.
St. Bernard gave her mother-in-law a quick call to check in on her son.
With the WNYC interview done, Mendoza hopped on the subway to go to the Refinery29 offices.
She was there to check out filming space for a new project she's working on that combines her filmmaking and the Women's March initiatives.
"My films dealt with social movement, social issues," Mendoza said. "They were all around women and children and poverty and issues that are important to me. But my contribution to the betterment of the world was via art, not necessarily via organizing. So I want to get back to that."
This is her first filmmaking project since the election. The Women's March had kept her so busy she didn't have time to do that work.
"Art can create change -- and does create change -- but it's longer-term," Mendoza explained. "It takes a lot longer for art to create change then, let's say, a #DropOReilly campaign, which, in a week and a half, we've been able to see tangible change around potentially getting him off the air. Art wouldn't necessarily be able to do that. It's just a different tool."
Her new project is all about fostering discussion, which is linked to the Women's March goals.
Back at the Women's March office, St. Bernard had a meeting about the We Belong Together action.
She was joined by two other organizers to go over the logistics for various Women's March demonstrations for children and families.
They planned a potential event in Brooklyn, considering permits, social media outreach, partnerships and a group of young speakers to give voices to the action. The three women got to work on Google Docs for the planning.
With the meeting wrapped up, St. Bernard got back to Brooklyn, where she had Passover Seder with her husband's family. They're very supportive of her Women's March work.
She's lived in New York for 15 years and often finds it overwhelming, but the election reminded her of the importance of living in a diverse city, especially with an interracial family. St. Bernard wants her son to be comfortable and not feel like an outsider. She believes New York is the best possible place for that.
At the Refinery29 office, Mendoza asked to use the mostly empty filming room to take a call.
She was heavily involved in the #DropOReilly campaign to get Bill O'Reilly off the air. Ultimately, her efforts were successful as he was let go.
For the campaign, she had a conference call with other organizers to discuss the plan.
However, the call organizers didn't confirm which time zones they were all in -- the conference call wasn't for another two hours.
With a bit of unexpected spare time, Mendoza called her partner, catching him up on their son and the sink and laughing as he told her about his own day.
All of her appointments done, Mendoza went back to Brooklyn to have dinner with her son and get ready for another day. Hopefully this time, he'd be OK with wearing socks.