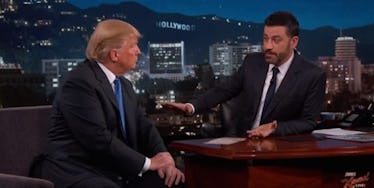 Jimmy Kimmel Called Out Donald Trump, Said Muslim Ban Is 'Un-American' (Video)
On Wednesday, one day after the last Republican presidential debate of 2015, "Jimmy Kimmel Live!" hosted candidate Donald Trump.
Kimmel, who typically doesn't touch on serious topics, went out of character for a moment and asked Trump about his call to bar all Muslim immigration to the United States.
He said,
Isn't it un-American and wrong to discriminate against people based on their religion?
The audience applauded immediately because, yes, it is "un-American" to propose or institute policies targeting specific demographics. Not to mention, this is precisely the type of rhetoric that increases radicalization and helps ISIS. Vilifying all Muslims and treating them with prejudice and suspicion is not only wrong, it's dangerous.
There are more than 1.6 billion Muslims around the world. The vast majority have no links to terrorism.
But, Trump defended himself and told Kimmel he has Muslim friends who called him and thanked him for his proposal. He failed to name any of these supposed friends, and one wonders if they actually exist.
Kimmel offered a particularly apt response to this dubious assertion, stating,
Those may have been crank calls. Did you check the caller ID?
The real estate mogul remains the Republican frontrunner in spite of his controversial rhetoric.
Watch the video of the exchange between Kimmel and Trump below.