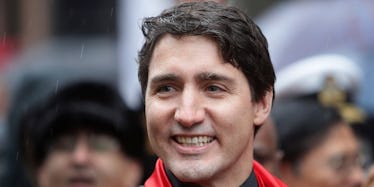 Justin Trudeau's First Magazine Cover Resurfaces And Proves He Was Born A Star
REUTERS
Justin Trudeau was always destined for greatness.
Not only was he born with a face even Ivanka Trump can't resist — and an ass that simply refuses to quit — but he also scored his first magazine cover before he could even talk.
He was in the limelight before he even knew what the limelight was.
The Canadian prime minister appeared on the July 1972 cover of Chatelaine with his mother, Margaret Trudeau.
The issue shows a young Margaret cradling baby Justin in her arms, along with a simple and heartwarming caption: "Margaret and Justin."
For those who don't know, Margaret Trudeau is an author and actress, and Justin's father, Pierre Trudeau, was the former prime minister of Canada back in the early '80s. He passed away back in 2000 after battling prostate cancer.
Interestingly enough, Trudeau, who came into the world on Christmas Day in 1971, was actually the second child ever to be born to a Canadian prime minister while in office — a pretty big deal at the time.
Given that little fun fact and his own parents' success, I guess it's really no surprise he grew up to be the man he is today.
In fact, the current prime minister's own children, though still young, are already following in their father's footsteps and making headlines of their own.
In 2008, Chatelaine, the same magazine that featured Margaret and baby Justin back in the day, published a very similar cover of Trudeau's wife, Sophie, cradling their first-born son, Xavier James.
Once Justin's children are, well, "old enough," I'm sure they will wholeheartedly not appreciate the widespread thirst their father has unintentionally forced upon women all over the world.
Sorry, kids. Your dad's suuuuuper hot — and was even hotter back in his prime.
Sometimes these things just happen.
At least it means you have a long lineage of good looks and killer genes to help you out later in life!
You'll understand when you're older.
*pats head condescendingly*
Citations: Justin Trudeau Was Actually Famous Before He Could Crawl (Refinery29), Welcome, Justin Trudeau (Google News Archive Search), Chatelaine 6/08 SOPHIE TRUDEAU. CHRISTINE HORNE (Pinterest)