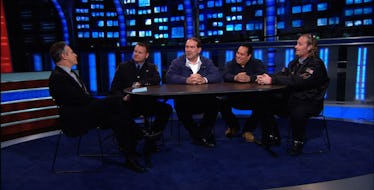 Why Jon Stewart Is Fighting For The Health Of 9/11 Heroes In Congress
Comedy Central
The terror attacks on September 11, 2001 left America completely heartbroken. But in the midst of the devastation and destruction in lower Manhattan, we were offered a glimpse of hope via the bravery and fortitude of the first responders and rescuers. These individuals lifted our spirits at a time when we needed it most. These firefighters, cops and EMTs are the heroes of 9/11.
Today, however, the US government is at risk of abandoning them in spite of the fact many still suffer from a number of health problems linked to their courageous service in the aftermath of the attacks.
John Feal, founder of the 9/11 advocacy group FealGood Foundation, estimates around 1,300 first responders have died from lung problems and cancer brought on from breathing in toxins at ground zero. Today, around 4,400 responders are living with cancer.
This is precisely why Jon Stewart is heading to Congress next week to pressure lawmakers to offer them the support they need.
Along with close to a hundred first responders, Stewart will walk the halls of Congress to lobby for a permanent extension of the James Zadroga 9/11 Health and Compensation Act. Important parts of the act, connected to the health and well-being of the heroes of 9/11, are set to expire at the beginning of October.
The bill is named after an NYPD officer, James Zadroga, a first responder who died in 2006 at the age of 34. According to the New York Times:
The highly decorated detective... did not smoke and had no history of asthma, and his family has long believed that his 450 grueling hours of work at ground zero had left his lungs fatally scarred with toxic chemicals, fiberglass and pulverized concrete. That belief was reinforced in April 2006 by an autopsy by Dr. Gerard Breton... He concluded 'with a reasonable degree of medical certainty' that the death was due to respiratory failure that was 'directly related to the 9/11 incident.'
In 2010, Stewart played a vital role in getting the act passed by drawing attention to it on "The Daily Show," shaming Congress for failing to come together to aid the heroes of one of the most tragic events in US history.
During a segment he did on the issue in August 2010, Stewart stated,
This makes me angry, I feel like screaming.
Ultimately, he screamed so loud it helped the act get passed. As Rep. Carolyn Maloney (D-NY) put it:
Jon Stewart was one of the driving forces behind getting the Zadroga Act passed in the first place, but the law is set to expire unless Congress acts again. The ailing 9/11 responders and survivors are suffering a range of health care problems. We can't force them to come back to Capitol Hill every five years to beg for their health care. Nobody understands that better than Jon Stewart, and nobody is better suited to make sure Congress gets the message.
On one of his last segments as host of "The Daily Show," Stewart spoke with Senator Kirsten Gillibrand about the bill, and she continues to applaud his unrelenting efforts in relation to it. Senator Gillibrand is the bill's lead sponsor in the Senate.
Honored Jon Stewart will join 9/11 heroes next week, but fact is, they shouldn't have to walk the halls of Congress at all. #renew911health — Kirsten Gillibrand (@SenGillibrand) September 8, 2015
Since it was signed into law in 2011, the bill has provided billions of dollars for the monitoring, care and compensation of thousands of responders.
If the bill expires, it's estimated 30,000 responders could be negatively impacted.
In spite of this, lawmakers have failed to pass legislation that would renew funding and provide support for the people who risked life and limb at ground zero. There is no excuse for this, and Congress needs to act without delay. This is not a political issue, it's a moral one.
This powerful conversation between Jon Stewart and 9/11 first responders encapsulates this country's duty to aid these heroes:
The Daily Show with Jon Stewart Get More: Daily Show Full Episodes,The Daily Show on Facebook,Daily Show Video Archive
Citations: Jon Stewart To Walk Halls Of Congress With 9 11 Responders (Huffington Post), 7 Ground Zero first responders from LI dead in 1 month (FealGood Foundation), Stewart Spends Last Show Of 2010 ENTIRELY On 9 11 First Responders Bill (Huffington Post), Jon Stewart Goes to Washington to Fight for 9 11 First Responders Again (Daily Beast), Jon Stewart To Lobby Congress Over 9 11 First Responders Bill (CNN Money), James Zadroga (NYT), 5 years later Jon Stewarts talk with 9 11 first responders is still incredibly powerful (Vox)