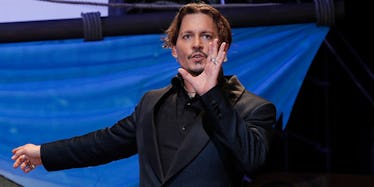 Johnny Depp Jokes In Front Of Crowd About "Assassinating" Donald Trump
Ken Ishii/Getty Images
Johnny Depp made a killer joke, literally.
During an appearance at a British film festival, the 54-year-old actor criticized Donald Trump before bring up the topic of a presidential assassination.
It's just a question. I'm not insinuating anything. By the way, this is going to be in the press, it will be horrible, but I like that you're all a part of it. When was the last time an actor assassinated a president?
He then added,
Now, I want to clarify, I'm not an actor. I lie for a living.
Video of Depp making the comments, to the applause of some in the audience, can be seen below.
Depp's remarks came during an appearance at the "Cinemageddon" stage of England's Glastonbury Festival. The actor was in attendance to introduce a screening of The Libertine, the 2004 film in which he starred.
Before his allusion to an assassination, Depp also said that Trump needed "help," before adding,
There are a lot of wonderful dark, dark places he could go.
The Timing
Depp's comments come a month after comedian Kathy Griffin found herself in hot water after posed with a replica of a bloody, severed head of President Trump.
Griffin ended up issuing a public apology, but still ended up losing her gig as host of CNN's New Year's Eve special while also prompting the Secret Service to investigate her.
Depp's remarks also come during a time at which the subject of political assassination attempts has received more coverage, particularly after a shooter open fired at a baseball field where Republican congressmen had been practicing for a charity game against Democrats.
Throw in the fact that Depp may attract the attention of the Secret Service himself, as Ted Nugent did after making similar remarks about former President Barack Obama, and it's clear that the actor's decision was altogether unwise.