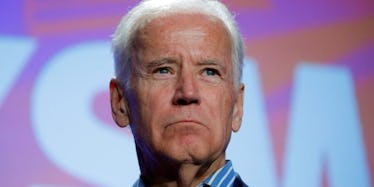 Joe Biden Shares Biggest Regret Of 2016 Election And It'll Make Your Heart Ache
REUTERS
During the ever-so-emotional 2016 election, numerous US voters grew curious about one thing: What if Joe Biden ran for president?
What if our "Uncle Joe" preceded his best friend, Barack Obama, in the Oval Office? What if he threw his hat in the ring to become the new leader of our country?
It's an agonizing "what if," but it's something we can't deny thinking about -- especially right now.
Personally, I'm going to assume if Joe Biden ran for president and won the election, the country would be in much better shape than it currently is.
Apparently, he agrees.
Joe Biden spoke at Colgate University in Hamilton, New York, this weekend, and expressed his biggest regret of the 2016 presidential election.
He said he regrets not running for president because he thinks he could have beaten Donald Trump, Huffington Post reports.
During his speech, he said, "I had planned on running for president and although it would have been a very difficult primary, I think I could have won. Maybe not, I don't know."
Our hearts are aching knowing Joe Biden wishes he ran for president.
Joe continued, "Do I regret not being president? Yes."
However, he explained his reasons for not running for president during his speech, and it'll make you cry.
Biden talked about his late son Beau Biden, and said running in 2016 would have been too much of a strain on his family after everything they went through following Beau's death.
Beau urged his father to run for president in the upcoming election before he died of brain cancer in 2015, but Joe declined the opportunity five months after his death.
During the speech, Joe called his late son the "the finest man I've ever known in my life."
He certainly doesn't regret spending time with his family after Beau's death instead of joining the race, but he does wonder what would have happened if he did.
Although he didn't run this time, there is a chance Joe will run for president in 2020 -- so let's not lose hope, yet.
We're pulling for you, Joe.
Citations: Joe Biden Wishes He Had Done Something Different In The 2016 Election (Refinery29)