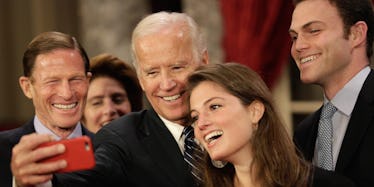 Biden Got Caught Kissing Senator's Wife On The Lips And The Jokes Won't Stop
REUTERS
On January 3, Vice President Joe Biden attended his final ceremonial swearing-in of senators and had an EPIC time in the process.
He kissed a senator's wife, took some selfies, mingled with America's young people and generally reminded everyone he's a national treasure.
Biden truly is an American hero.
The vice president kissed Senator Chuck Grassley's wife on the lips (note: this tweet claims it was the senator's mother, but it was eventually clarified as the senator's wife).
Keep Biden away from your wife.
People can't get enough of this full-on mouth kiss.
There was apparently a whole lot of kissing going on at the ceremony.
Biden also tried to kiss a baby, but was not successful.
And even though Biden recently turned 74, he is definitely not technologically challenged.
Biden's selfie form is impeccable.
Biden also asked Senator Marco Rubio to step aside so he could take a photo with the Florida senator's kids.
Biden is so cool that Senator Rand Paul asked his own son to step out a photo so he and his wife could get one with the vice president.
Biden also gave some excellent advice to some young men on how they should treat their sisters.
And he complimented an adorable little girl on her sparkly shoes.
Let's face it: People are really going to miss having Biden as vice president.
Saying goodbye to Biden is definitely one of the most difficult aspects of the culmination of the Obama era.
Biden is well-liked by pretty much everyone, regardless of their politics.
He's a warmhearted, intelligent man with a fantastic sense of humor who's served the public for decades. Even in the midst of unspeakable personal tragedies, Biden's dedication to the country never faltered.
In short: He's one in a million.
Thanks, Uncle Joe. We will miss you.
Citations: Joe Biden kissed GOP Sen. Chuck Grassley's wife on the lips (The Week)