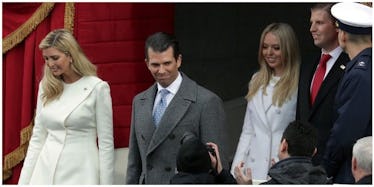 Ivanka Trump Reportedly Tried To Bump Tiffany Out Of The Inheritance, So, Awkward
Chip Somodevilla/Getty Images
I'm sure it's not easy being a billionaire's child, especially when that billionaire is a man who thrives on attention. And when your life is full of painfully public revelations, like finding out that your parents are getting divorced thanks to a New York tabloid, I'm guessing you feel you're owed certain compensation. Which is why the latest Ivanka Trump and Tiffany Trump story does not surprise me. Along with her brother Donald Trump, Jr., the eldest Trump daughter reportedly wanted to cut Tiffany out of the will, according to Newsweek.
The magazine got its hands on archived recordings from The Howard Stern Show -- including several conversations President Donald Trump had with Stern, and allegedly, Trump confirmed a rumor that Donald Jr. and Ivanka Trump conspired to "bump off" Tiffany from their sizable family inheritance when they found out Marla Maples -- Trump's second wife -- was pregnant. Representatives of Ivanka Trump did not return Elite Daily's request for comment by the time of publication.
Trump was, at first, vague on the subject, according to Newsweek: "The fact is, every time you have a child, it's 15, 20, 25 percent less of it all," he said. "Maybe they're not thrilled, but I think that they're happy."
He continued to avoid directly addressing the rumor by talking about "a friend who is also like a very rich guy" whose "children hate the new children coming along and everything else; I said, 'Yeah, because every time you have a child, it's 20 percent less to the people.'"
But, it seems, Stern wore the president down when he asked once again.
STERN: Is there any truth to that? [Inaudible] Tiffany? [...] Tell me the truth, though. TRUMP: Yes.
Whether or not Trump is telling the truth or merely grandstanding (which, uh, has been known to happen when Trump is around other men) is another matter altogether.
And when exactly this alleged planned "bump off" was discussed is another matter. Judging by the context of the conversation, it would have happened around the time that Tiffany was born -- or even before. Newsweek reports that Ivanka and Trump Jr. "weren't happy when they discovered they'd have another sibling."
And Ivanka was all of 12 years old when Tiffany was born, so maybe it was just your basic sibling rivalry and classic teen angst. I mean, who among us hasn't allegedly plotted to cut off their half-sibling in order to claim a bigger piece of the real estate kingdom their rich father created?
I'm guessing, judging from the conversation between Stern and Trump, that part of the unspoken agreement between Trump and his kids is that they will put up with his you're-fired-grab-them-by-the-my-personal-Vietnam sh*t in exchange for a metric butt-ton of cash after he kicks it.
How much cash that may be is up for debate, as Trump's net worth has been estimated at anywhere from a mere $150 million to $3.5 billion (though that number has reportedly dropped to only $2.9 billion). And a lot of that is tied up in real estate, per Forbes, so liquidity is another matter altogether. And then there are the failed businesses, like Trump Steaks, the airline, his bottled water, or even his magazine. Oh, and confirmation that Trump owes hundreds of millions of dollars to various lenders. But at any rate, his kids are probably slated to inherit a fair chunk of change.
Besides, even if Ivanka and Trump Jr. (to say nothing of Eric Trump) were furious upon learning of another share of money being ripped from their hands, it seems that Ivanka and Tiffany are cool now. Ivanka posted a photo of them together to Instagram for National Sisters Day back in August. And anyways, Ivanka and husband Jared Kushner are reportedly worth $740 million, so maybe they don't need to eliminate Tiff, or, for that matter, 11-year-old Barron, from the equation. Just one big happy family, right?
...Right, guys?