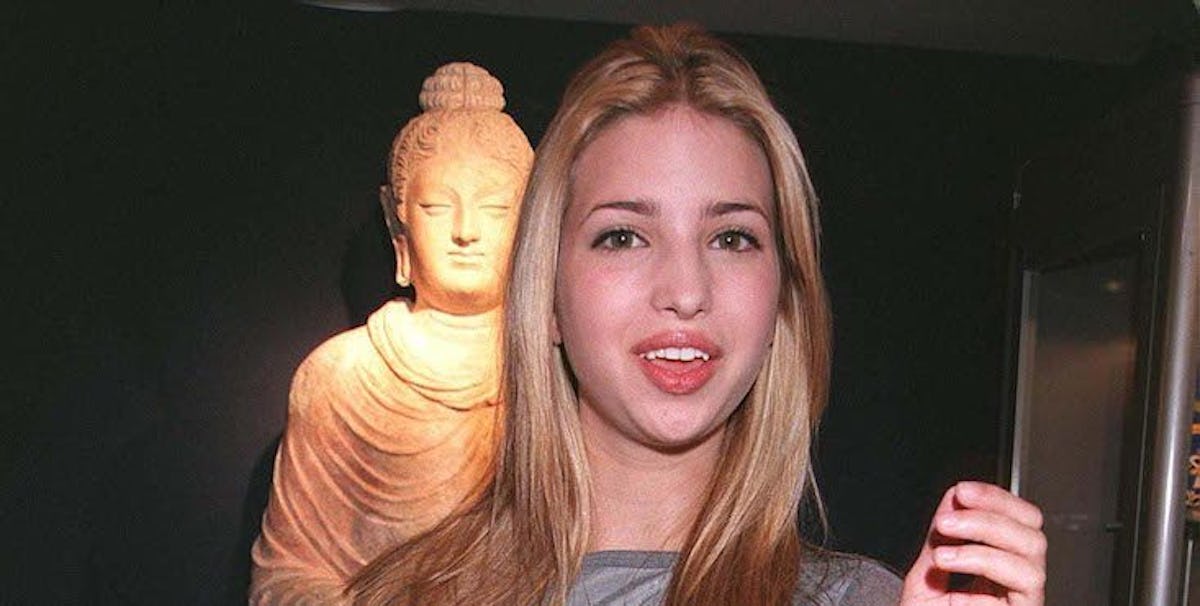 Ivanka Trump Posted A "Back to School" #TBT And It's Full Of Nostalgic Gems
RICHARD YOUNG/REX/Shutterstock
It's nearing the end of August, which means it's just about back to school time. Ivanka Trump instagrammed a #TBT to get in the back to school spirit and, wow, it's just so full of gems. Trump is a regular Instagrammer, but she very infrequently participates in Throwback Thursday, so we have to soak it up and appreciate it as much as possible.
The Instagram shows Trump in a school classroom along with a group of fellow students, all young women. She doesn't include the date on it, but it looks around the mid- to late-1990s. Trump was born in 1981, and the picture looks like it's from middle or high school. Trump's #TBT Instagram seems like it's a picture of a real, printed photograph, with all the grimy exposure of a disposable camera.
I have to admit, it took me a long time -- and a few friends' input -- to figure out which student in the Instagram is Trump herself. To find her yourself, it's important to remember that Trump's natural hair color may not be precisely blonde, and she did go around with brown hair when she was younger. So go ahead and take a look too see if you can figure out which one is Trump:
According to my friends, she's the one in the bottom right with the headphones on.
I told you there's a lot to take in with this Instagram. The scrunchie in the front row! The alleged Trump's polo shirt! The classic looks of students stuck in a classroom on a sunny day! Seriously, you can play a pretty fun game of "tag yourself" with this Insta.
There are many reasons why Trump may have felt particularly inspired to post this #TBT on Instagram. For one thing, she's got a whole bunch of family members heading back to school as summer comes to a close. Her half-sister Tiffany Trump is starting her first year at Georgetown Law School, where orientation started on Monday, Aug. 21. Meanwhile, her half-brother Barron Trump will be starting St. Andrew's Episcopal School in Potomoac, Maryland in coming weeks.
And then Ivanka Trump has her three young children with husband Jared Kushner. Their oldest is Arabella, 6, who started classes at Jewish Primary Day School in Washington D.C. back in January when her family moved from New York, according to Town & Country. The first day of school for Arabella's school after summer break is Aug. 29, according to their site.
So it could've been this actual familial back to school business that inspired Trump to be "feeling those back to school vibes!" on Thursday, Aug. 24 -- or maybe she was just feeling nostalgic for a markedly simpler time. In any case, we have this great picture.