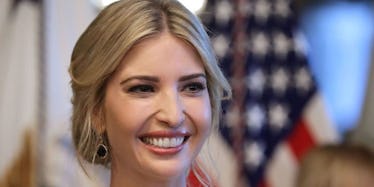 Ivanka Trump's Unpatriotic Memorial Day Tweet Has The Internet Fuming
Chip Somodevilla /Staff/Getty Images
Like most of us, celebrities and politicians took to Twitter on Memorial Day to honor those who have served the US.
Around 12:30 pm on the holiday, Ivanka Trump thanked those who made the ultimate sacrifice for our country's freedom.
This was a perfectly honorable tweet and acknowledged the meaning behind the holiday — certainly nothing to fault. However, her Ivanka Trump HQ Twitter page didn't follow that same sentiment.
A few hours later, her brand's account sent out suggestions for making champagne popsicles.
The tweet read, "Make champagne popsicles this #MemorialDay" and linked back to her website's article, which featured the tagline, "Turn the music up — it's a three-day weekend."
The article furthered suggested ways to celebrate this summer kickoff — by wearing white, having a picnic, and of course making those bubbly popsicles.
Since all eyes are on Ivanka — especially considering her husband's alleged involvement in creating a secret communications channel with Russia — people were quick to respond to her lighthearted, three-day-weekend suggestions.
Helen Graves, daughter of the late writer John Graves, was not having it.
One user said Ivanka should walk "far away"...
...and another suggested where she should go.
Some offered alternatives for Ivanka's BBQ plans.
Others just told her to quit while she's ahead.
The Ivanka Trump HQ also tweeted MDW suggestions on Sunday, which were met with just as much criticism as the popsicles.
Similarly, her father received a great amount of backlash for his Memorial Day tweets.
Though on the surface they were respectful and paid homage to those who fought for America, people didn't waste time to remind the president of his policies and past actions that contradict his tweets.
While yes, Ivanka's lifestyle brand was commenting on just that, many felt as the president's daughter, she could've found a better time and place to kickstart summer blog posts than Memorial Day.
Citations: @ivankatrumphq (Twitter)