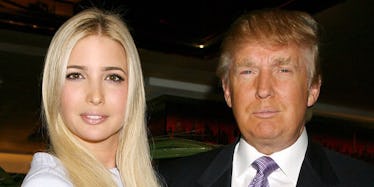 Ivanka Trump Likes Her Dad Calling Her 'A Piece Of Ass,' According To Tweet
REX/Shutterstock
We already know there's some sort of bizarre sexual tension between Donald and Ivanka Trump, but this is just TOO MUCH.
Ivanka "liked" a tweet about her father calling her a "piece of ass."
Her Twitter feed showed she had approved a post from a news website with the words,
Trump in 2004: It's okay to call daughter Ivanka a "piece of ass."
The bizarre statement was listed at the top of her "Liked" page on her official account.
It was posted on Sunday but has since been deleted. Pretty weird, though, right?
A source told DailyMail.com Trump's team accidentally "liked" the tweet and the whole thing was a big error. The source said,
A simple mistake was made by a staff member.
At this point, I'd like to remind you this photo exists on the internet:
It shows a young Donald and an even younger Ivanka cuddled up on a statue of two parrots having sex.
Check out that caressing hand on his chin, that look of love. It would be the picture of perfect romance if not for the incest and all.
Something as harrowing as this needs to remain deep in the dusty archives of the World Wide Web.
Ivanka was supporting her father while he fought Hillary Clinton in the latest presidential debate on Sunday night.
That must have been slightly awkward for her, as he was fielding questions about comments he made regarding sexual assault and grabbing girls by the "pussy."
You know what he did to defend himself? He went on a massive rant about ISIS. He even said he would "knock the hell" out of them because he's super mature.
No wonder his other daughter, Tiffany Trump, gave him the cold shoulder when he tried to kiss her on the cheek.
When your own daughter won't even kiss you. #debate pic.twitter.com/iKHOSaOqEa — Diane N. Sevenay (@Diane_7A) October 10, 2016
So much shoulder.