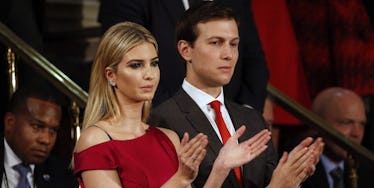 People Are Shaming Ivanka For 'Hypocritical' Dress She Wore To Trump's Address
REUTERS
It's extremely sexist to judge a woman by what she wears, and it happens far too often — especially in the political world.
But, people are calling out Ivanka Trump for the dress she wore to her father's address to Congress on February 28, and they actually have a point in this case.
Long story short: President Trump is frequently calling on people to "buy American and hire American," but Ivanka was wearing a $2,995 dress from French designer Roland Mouret.
In his speech, Trump said,
America has spent approximately $6 trillion dollars in the Middle East, all this while our infrastructure at home is crumbling. With this $6 trillion dollars we could have rebuilt our country — twice. And maybe even three times if we had people who had the ability to negotiate. To launch our national rebuilding, I will be asking the Congress to approve legislation that produces a $1 trillion investment in the infrastructure of the United States — financed through both public and private capital — creating millions of new jobs. This effort will be guided by two core principles: Buy American and hire American.
Meanwhile, his daughter was watching his speech while wearing a product from a French designer based in the United Kingdom.
Criticizing Ivanka for how she appears is just plain wrong, but pointing out this subtle example of hypocrisy is arguably fair game.
If the Trump family wants people to buy products in the US, it should set an example for the American people.
As one Twitter user put it,
Dad said buy American so Ivanka wore a French designer's dress
Relatedly, many Trump products have been made overseas.
Ties, suits, dress shirts, eyeglasses and other accessories from the Donald J. Trump Collection, for example, were made in China, Bangladesh, Honduras, Vietnam and India.
Yes, China — Trump's favorite place.
Perhaps the Trump family should practice what it preaches.
Citations: How many Trump products were made overseas? Here's the complete list. (The Washington Post), Donald Trump's Congress speech (full text) (CNN), Donald Trump says 'buy American' during Congress address while Ivanka wears $1868 dress by French designer (Independent)