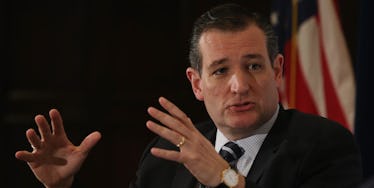 Iowa Caucuses: Ted Cruz Defies Expectations, Clinton Inches By Sanders
Getty Images
On Monday, Senator Ted Cruz defied all expectations and defeated Donald Trump in the Iowa Caucuses.
Cruz won with 27.7 percent of the vote.  Trump came in second with 24.3 percent of the vote, followed very closely by Marco Rubio who took home 23.1 percent of the vote.
Many analysts took the Cruz victory as a testament to whether or not Trump, the most talked-about Republican candidate to date, could translate his Twitter feuds to actual votes.
For his concession speech, Trump kept it short, saying in part,
I was told by everybody: Do not go to Iowa. You could never finish even in the top ten...We finished second, and I want to tell you something. I'm just honored. I'm really honored...We're 28 points ahead, OK, New Hampshire...We will go on to get the Republican nomination and we will go on to easily beat Hillary or Bernie or whoever the hell else they throw up there... I love the people of Iowa. I think I might come here and buy a farm.
Immediately after his victory, Cruz called the moment "breathtaking."
Following the vote, former Arkansas Governor Mike Huckabee took to Twitter to let supporters know he is suspending his campaign.
Meanwhile, the Democrats had an even tighter race than their Republican counterparts.
Hillary Clinton squeaked out a very marginal (0.3 percent) victory over Vermont Senator Bernie Sanders.
Former Maryland Governor Martin O'Malley also decided it was time to throw in the towel and announced his campaign's suspension before the results were even announced.
Citations: Ted Cruz Is Projected To Win The Iowa Republican Caucus (NBC News)