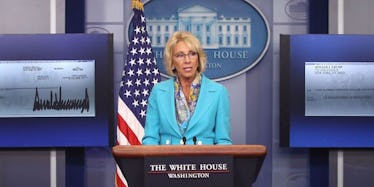 I'm A Survivor Of Campus Sexual Assault, And This Is Why Betsy DeVos Scares Me
Mark Wilson/Getty Images
I am a survivor of campus sexual assault, and I am terrified of what Secretary of Education Betsy DeVos could do. At her direction, the Department of Education is considering rescinding the 2011 "Dear Colleague" letter, a pivotal document that outlines schools' longstanding obligations under Title IX to support survivors of sexual violence and protect their access to education. This would have devastating consequences for the thousands of survivors who rely on the document to guide schools on how to adequately address violence and discrimination.
The night I was sexually assaulted, I was wearing a button that said "I <3 Consent." I had pinned it onto my dress after begrudgingly agreeing to be my friend's date to a sorority dance. Halfway through the night, I found myself having more fun than I expected, and I got excited to see pictures from the dance.
But soon enough, my friends found me crying on the floor of the bar coat room. My button was still on. Another student had sexually assaulted me. I couldn't have predicted the way the assault would shake me to my core, causing my campus to become a place where I was always afraid and looking over my shoulder.
The following weeks were the hardest of my college career. I could barely sleep and struggled to make it through class without panicking. I found myself avoiding campus as much as possible, often skipping classes and never venturing out at night. Despite my best efforts, I couldn't shake the overwhelming fear of running into my perpetrator on campus. My education didn't seem worth the risk.
My experience is not unique; statistics show that between 1 in 4 and 1 in 5 women will experience sexual assault before graduating from college. But I was lucky that the assault occurred after the publishing of the Dear Colleague letter of 2011, which states, in plain language, that sexual violence is both a crime and a violation of a student's civil right to education under Title IX. Accordingly, schools must provide survivors with the services they need to stay in school such as counseling, housing relocation, or an extension on a paper.
After my grades began to slip, I realized it wasn't fair for me to continue to suffer because of someone else's actions. I reported my assault to the school and received critical accommodations that stopped the assault from impacting my education. My perpetrator was barred from communicating with me and ordered to avoid me on campus. An e-mail was sent to my professors asking that I be granted extensions on work as needed. I was provided with a list of on-campus and off-campus counseling resources. Title IX allowed me to continue on with my studies without having to choose between being a student or a victim.
Weakening federal enforcement of Title IX will have dire consequences for survivors. The Department has already decided to scale back requirements that investigators examine universities' systemic failures to comply with the law – a decision that betrayed the hundreds of survivors who bravely filed complaints with the Office of Civil Rights in the hope of changing their school.
Taking additional action to rescind the Dear Colleague letter would make it easier for schools to sweep violence under the rug and refuse to provide survivors with the accommodations that they need to stay in school. Eliminating the guidance would also serve to confuse advocates and school administrators who relied on it for more than five years to understand their responsibilities.
In order to ensure everyone has equal access to education, the Department of Education must stand by the many thousands of survivors tasked with recovering from a traumatic event while maintaining the fast pace and high demands of college.
Without Title IX, I would have needed to take time off from school to manage the post-traumatic stress I experienced. Without Title IX, I wouldn't be graduating with honors this December. If Betsy DeVos has her way, other students won't be as lucky.