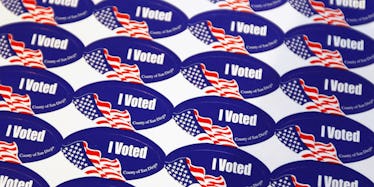 Here's What To Do If You Missed The Primary Voter Registration Deadline
REUTERS/Mike Blake
By now, we know Donald Trump won't be getting the two votes he was counting on New York's Republican presidential primary election: his two children's.
Donald Trump's eldest kids aren't going to be able to cast a vote for their father on Tuesday. Why? Because they didn't update their voter registration information in time.
Ivanka Trump has been on the campaign trail for months telling people to make sure they're registered to vote for the primary. Surrounded by advisors and media, she still missed the October 2015 deadline to update her registration status to affiliate with the Republican Party.
It's a little crazy for someone like Ivanka to miss the deadline. But celebrities are just like us; they miss voter registration deadlines too.
The situation sheds light on a very important issue that deserves more attention; many young voters new to the voting process miss deadlines all the time.
According to a 2010 survey by Circle, a quarter of people under the age of 30 who didn't vote cited having missed the registration deadline or not knowing how to register as the reason for their lack of participation. Just think about the New Yorkers who want to vote in the GOP primary, who had to remember to change their registration six whole months before the election.
Our country's elections are governed by the states, so the rules and deadlines for voter registration vary from state to state. This can be most challenging for young people who are experiencing voting as a new process, one that many have not previously been exposed to.
Young people, who are attending college or moving frequently, have the added burden of navigating rules that govern voting as a student and updating their registration information each time they change residences.
So here are a few things to keep in mind as you think about voting – in the primary or general election – this season:
1. It's easier than you think.
Registering to vote can be an intimidating process and poses bigger hurdles than the act of voting itself. But it doesn't have to be. Most states allow voters to register online now. By going to Vote.org, you can fill out a registration application in less than two minutes. And if your state doesn't let you submit it electronically? Just download the application, print and mail it.
2. If in doubt, check it out.
If you're not sure whether or not you're registered, there are great tools like Vote.org that allow you to check your registration status quickly online. If you're still not sure, just register again.
Mark your calendar: There are a lot of dates to remember when it comes to elections: registration deadlines, primary Election Day, absentee request deadline, early voting dates, Election Day. Let me give you a cheat sheet:
September 27, 2016: National Voter Registration Day is Tuesday, September 27. Mark it down, tell your friends. If you register on or before 9/27, you don't even need to think about your state's deadline.
November 8, 2016: Election Day! If you haven't voted by absentee or early vote, get your butt to the polls on Tuesday, 11/8.
Can't make it Nov 8?: If you want to request an absentee ballot or vote early, it's likely you can. Find all the deadlines and information you need here.
3. You're not alone.
Plenty of your friends have the same questions you have about the election, one of which will surely be: Where's my f*cking polling place?  Luckily you can visit YourFuckingPollingPlace.com to find out where to cast your ballot on Election Day.
4. Remember, it matters enough to figure it out.
Don't let the complicated rules and, in some states, archaic rules stress you out about voting. The only way the people we elect will represent the issues young people care about is to show them that they answer to us: by voting. Millennials make up the largest generation in our country, so show up and show your power.
Now that you're totally informed, help a friend. Share the info and commit to showing up to vote this year.