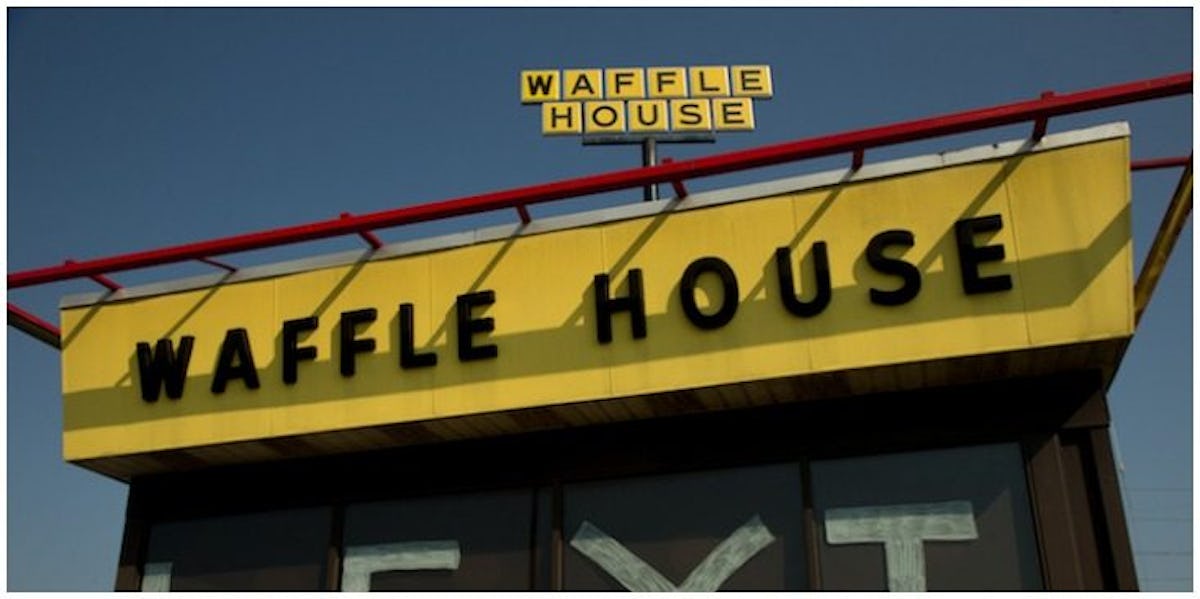 Hurricane Harvey Damage Is So Bad That Even The Waffle Houses Are Closing
Darren Carroll/Getty Images
Hurricane Harvey continues to assault southeastern Texas. The storm has already forced thousands out of their homes, causing untold damage, and it continues to get worse. Now, we're getting an idea of just how bad things really are: Waffle Houses in Houston are closed. And no, we're not concerned about the ability of Texans to get waffles at 3:00 in the morning. The Federal Emergency Management Agency (FEMA) uses Waffle House as a metric to determine just how bad a disaster is.
Yes, really.
It's called the Waffle House Index. And it's based upon the fact that the 24-hour-a-day, 7-day-a-week, 365-day-a-year restaurant has "jump teams" made up of managers ready to travel to storm-stricken areas and work, according to NPR. Individual restaurants even have "storm playbooks" complete with protocol for operating if running water and electricity go out.
Waffle House's storm plans are no joke, and that's why FEMA's Waffle House Index is a near-perfect metric of how bad a storm really is. The index is color-coded and moves from level to level depending on how Waffle House is able to operate. According to FEMA,
If a Waffle House store is open and offering a full menu, the index is green. If it is open but serving from a limited menu, it's yellow. When the location has been forced to close, the index is red. Because Waffle House is well-prepared for disasters… it's rare for the index to hit red.
And, judging by Waffle House closures in Houston, FEMA would consider Harvey code red: Eater reported on Aug. 28 that four Waffle Houses in the Houston area were closed, but later updated the post to reflect the re-opening of one location. NPR reports that two locations were closed as of the evening of Aug. 29, but — thankfully — about 30 were still open.
The Index was born from former FEMA manager Craig Fugate, who came up with the metric while he was the Florida Director for the Emergency Management Division from 2001-2009.
The index isn't just about businesses rebounding either -- it tells FEMA about the community at large. According to FEMA, "The sooner restaurants, grocery and corner stores, or banks can re-open, the sooner local economies will start generating revenue again – signaling a stronger recovery for that community."
So, it's good news that at least one of the local Waffle Houses has re-opened. At the very least, it means being able to grab a cup of coffee and a plate of eggs, which is a necessary comfort in the midst of disaster.
After all, nothing should stand in the way of a delicious breakfast.