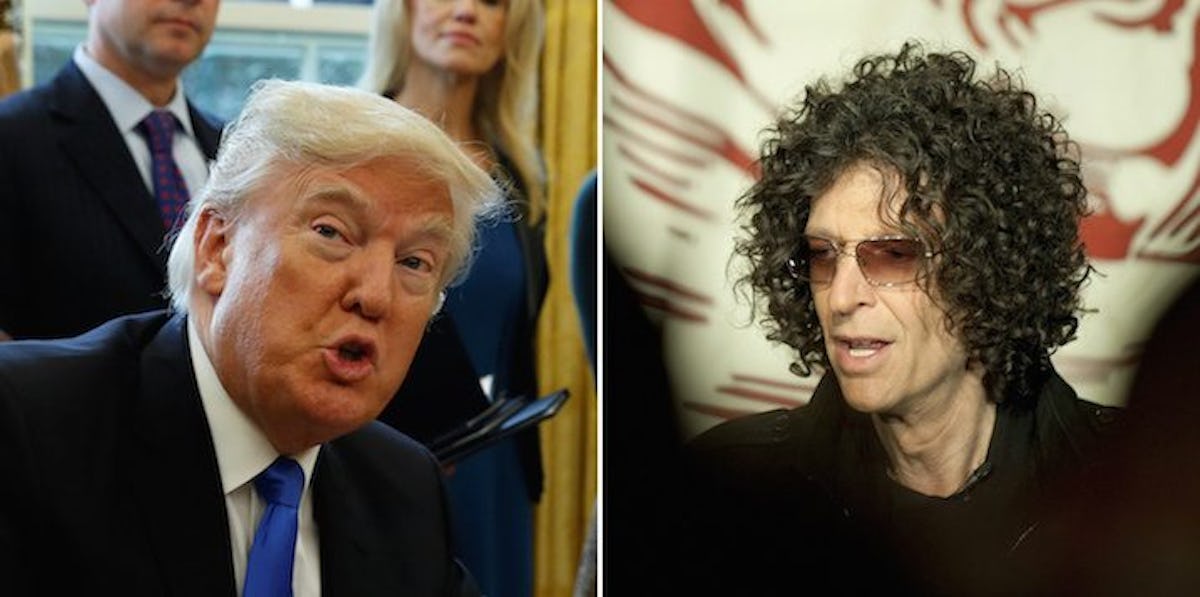 Howard Stern Says Trump Is 'Pissed He Won' And Wants To 'Hand It Over To Hillary'
REUTERS
Howard Stern had some strong words for how his buddy Donald Trump is taking to winning the presidency of the United States.
And according to Stern, Trump is really, really not happy about it.
Stern said on his radio show on Wednesday Trump is "pissed he won."
According to Stern, Trump really only ran so he could convince NBC to pay him more for "The Apprentice," on which Trump is still an executive producer.
Stern said,
I think it started out as like a kinda cool, fun thing to do in order to get a couple more bucks out of NBC for The Apprentice, I actually do believe that.
The crass radio host went on to say Trump is pushing the voter fraud narrative because he is still hoping to find a way out of this mess.
Despite no real evidence, Trump has said he wants to start an investigation into voter fraud. However, Trump's investigation would center on his belief there were illegal immigrants voting in New York and California (there is no evidence of this), which led him to lose the popular vote by nearly three million.
Trump also has not yet issued an executive order to launch that investigation, making it seem as if maybe he just wanted people to believe he won the popular vote if you take out all the illegal voters (who do not exist; he lost the popular vote fairly).
Still, Stern said,
He still wants Hillary Clinton to win. He's so fucking pissed, he's hoping that he can find some voter fraud and hand it over to Hillary.
Trump and Stern have been friends for a long time. Many of Trump's most aggressive public statements have been made on Stern's show, including rating women by their appearance and discussing with whom he'd want to sleep.
Stern said he was "shocked" to hear Trump was running -- and "even more shocked that, sort of, people took it seriously."
He was also shocked, Stern said, because Trump was previously a fan of Clinton and "pro-abortion."
The radio host added he personally wishes Trump had never run because he's worried about his health. Stern said,
I actually think this is something that is gonna be detrimental to his mental health too, because, he wants to be liked, he wants to be loved.
Trump's current approval rating is 45 percent, according to Gallup. The average approval rating for a president's first quarter is 63 percent.
Citations: CNN, Daily Beast, BuzzFeed, Gallup