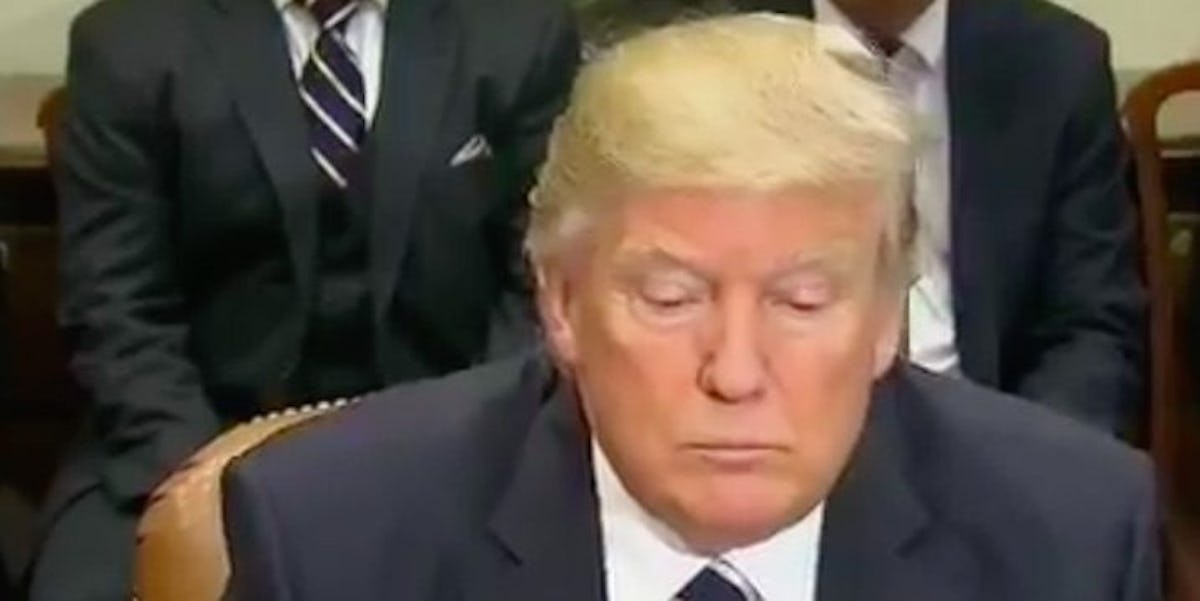 Video Of Trump 'Having Trouble Seeing' Has Everyone Nervous About His Health
Twitter
President Donald Trump exhibited mildly bizarre behavior in a briefing at the White House on cybersecurity, and some are wondering if it's a sign of some sort of illness.
As he introduced the man he's chosen to fight the war on hackers, former New York City Mayor Rudy Giuliani, the president struggled to find Giuliani in the room.
He said,
With that, I wanna introduce Rudy Giuliani and he's gonna be working with Jared Kushner and with Tom Bossert, who are also here. Rudy's very much of an expert on cyber security: It's been a very important thing to him, and to what he does and maybe I'll ask Rudy to say a few words.
Then he looked around the room, appearing somewhat confused, and said,
Where's Rudy?
Homeland Security Secretary John Kelly then informed Trump that Giuliani was sitting directly across from him, and Trump said,
Oh, there's Rudy.
Is this an indication of some sort of illness?
Who knows. We'll leave that to the medical experts.
But Trump did appear to be somewhat bewildered as he tried to locate a person who was sitting directly across from him.
Here's the video.
Perhaps he's just exhausted.
He's only been president for a little less than two weeks, but it ain't an easy job and a lot has happened since his inauguration.
Regardless of your politics, you can't blame the man for being a little tired. He is 70, after all.
But some still think this could be a sign he is suffering from something that has yet to be identified.
We don't know for certain if Trump actually has any real health problems.
But it is notable psychologists have stated he shows signs of mental illness, including "malignant narcissism."
Speaking with NY Daily News, Dr. Julie Futrell, a clinical psychologist, stated,
Narcissism impairs his ability to see reality. So you can't use logic to persuade someone like that. Three million women marching? Doesn't move him. Advisers point out that a policy choice didn't work? He won't care. The maintenance of self-identity is the organizing principle of life for those who fall toward the pathological end of the narcissistic spectrum.
No one can say for sure exactly what was going on in that briefing with Giuliani -- but what some psychologists are saying about Trump certainly makes a lot of sense.
Citations: People are very worried by this video of Donald Trump (Indy100)