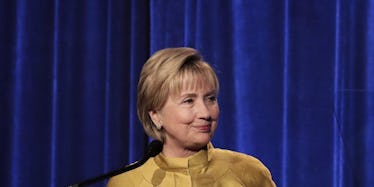 Where Was Hillary Clinton During The White House Correspondents' Dinner?
Getty
Hillary Clinton was not at the White House Correspondents' Dinner on Saturday night, but she still couldn't escape getting roasted by host Hasan Minhaj.
Minhaj said,
Hillary Clinton is not here. Someone told her the event would be in Wisconsin and Michigan.
He was clearly referencing criticism launched at Clinton following the election she didn't campaign enough in states with large populations of working class voters.
Wisconsin and Michigan are two of the states Clinton lost, and both played a big role in her electoral college defeat.
The crowd groaned at the joke, and, taking a jab at pollsters who gave Clinton a big chance of winning, Minhaj said FiveThirtyEight's Nate Silvers told him "there was a 71.4 percent chance of that joke working."
Earlier in the day, Clinton tweeted her support for the anti-Trump climate march that occurred in capital and was attended by hundreds of thousands of people.
It wouldn't have made much sense for Clinton to attend the WHCD, as she's no longer in public office.
Not to mention, the president wasn't even there. But his absence was definitely controversial.
Instead of attending the WHCD, Trump held a campaign-style rally in Harrisburg, Pennsylvania, where he took the opportunity to condemn the media and take shots at Clinton.
Minhaj spent most of his speech ripping into the Trump administration, while also taking jabs at the media.
He finished with a thoughtful reflection on the importance of free speech in the era of Trump, and the president's lack of respect for the First Amendment.
Meanwhile, at a separate event hosted by Samantha Bee, the "Not The White House Correspondents' Dinner," the comedian gave a speech in which she imagined what the country would be like at this point if Hillary Clinton had actually won the election.
Regardless of where she was on Saturday, which also happened to mark 100 days in office for Trump, the former secretary of state was clearly on a lot of people's minds.