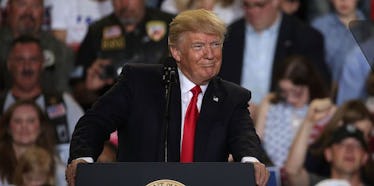 Trump Skipped The WHCD To Hold A Sad Rally Full Of Empty Seats And Skinheads
Getty
On Saturday, President Donald Trump held a campaign-style rally in Harrisburg, Pennsylvania instead of attending the White House Correspondents' Dinner (WHCD) in the nation's capital.
Trump, who's never handled criticism very well, apparently did not want to attend an event that typically involves the president getting roasted by a comedian host.
He's the first president since Ronald Reagan to skip the WHCD.
Reagan had a much better excuse for not going, however, as he was recovering from being shot in an assassination attempt in 1981. All Donald Trump has are empty seats at his Pennsylvania rally.
Trump's refusal to attend the WHCD is yet another example of his extremely contentious relationship with the press.
The president claimed his rally on Saturday broke attendance records, but empty seats could be seen throughout the venue. Sad!
This is not the first time we've seen Trump brag about the size of a crowd (or his hands, for that matter).
His administration hammered the issue to death following Inauguration Day.
When he wasn't obsessing over attendance levels, Trump used his rally as an opportunity to bash the media, The Hill reports.
He said they were "trapped" at a "very, very boring" event, and claimed they "would love to be with us right here tonight."
Trump probably will not be happy to learn the WHCD was a sold out event, which Jeff Mason, the president of the White House Correspondents' Association, noted in his speech at the beginning of the dinner.
Journalists reported seeing skinheads at Trump's rally.
In addition to empty seats, journalists reportedly spotted skinheads at Trump's rally, though no organization has yet to confirm their attendance. The president himself has not commented and a request for comment made by Elite Daily to the president's representatives was not returned at the time of publication.
Referring to the t-shirt of one of the men in the photo above, Daily Beast's Justin Miller tweeted: "Keystone United is a skinhead group."
The Southern Poverty Law Center (SPLC) describes Keystone United's ideology as "racist skinhead."
Keystone United frequently sponsors white-power picnics and music festivals across Pennsylvania, according to the SPLC.
President Trump's appeal to right-wing extremist groups has been an ongoing point of controversy.
During the US presidential campaign, he was endorsed by the Ku Klux Klan's official newspaper.
Citations: Trump says rally crowd broke records despite empty seats (The Hill)