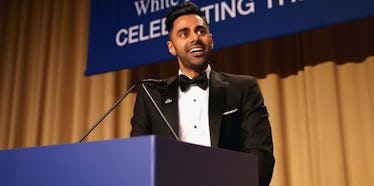 Hasan Minhaj's Powerful Point About Free Speech Has Internet Cheering
Getty
Hasan Minhaj hosted the White House Correspondent's Dinner on Saturday, and he completely roasted the Trump administration.
There were definitely some awkward moments in which he took jabs at the press, and Hillary Clinton at one point, as well.
Toward the end of his remarks, Minhaj took a slightly more serious tone when discussing the overall theme of the night and what it truly means in the era of Trump.
Most seem to agree one of Minhaj's final points — a passionate defense of free speech — was exactly what needed to be said.
Minhaj said,
This event is about celebrating the First Amendment and free speech. Free speech is the foundation of an open and liberal democracy, from college campuses to the White House. Only in America can a first-generation Indian-American Muslim kid come on stage and make fun of the president.
The entire room applauded.
He added, "The orange man behind the Muslim ban," which generated laughter.
Minhaj said Trump didn't attend the WHCD because he "doesn't care about free speech," and "the man who tweets everything that enters his head refuses to acknowledge the amendment that allows him to do it."
The comedian then joked Trump would tweet about how "Nicki Minaj" bombed at the WHCD in a few hours.
Minhaj's statements about free speech, and Trump's lack of appreciation for it, had the internet cheering.
He killed it, and the internet agrees.
Trump used the event as an opportunity to attack the media and Hillary Clinton.
He's the first president to skip the WHCD since Ronald Reagan in 1981.
At the time, Reagan was recovering from being shot in an assassination attempt, which is a fair excuse.
Many feel Trump didn't attend the WHCD because he can't take a joke.
On that note, it's safe to say he definitely would not have appreciated much of what Minhaj had to say.