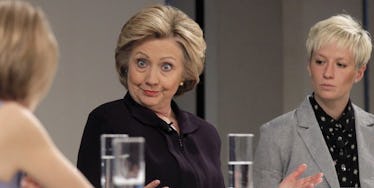 Here's What Hillary Clinton Thinks About Splitting The Bill On A Date
REUTERS / Brendan McDermid
On Tuesday, Hillary Clinton spoke to Cosmopolitan about her thoughts on gender equality on Equal Pay Day.
Clinton discussed how she grew confident to find out about equal pay in her work experience in law and responded to criticism that she is condescending toward young people. She also said that she would aim to meet Canadian Prime Minister Justin Trudeau's gender-equal administration cabinet.
Between discussions of equal pay at work and gender balanced political cabinets, Cosmo asked Clinton if she thinks that men and women should split the bill on dates.
Clinton gave kind of the most Clinton answer ever in response to the question. Rather than answering one way or another, she went on saying that there are different situations that prompt different actions.
Although it was a vague answer, it was pretty true to life. Splitting the bill is a fraught topic, especially as a feminist.
I'll be the first to admit I'm conflicted about it. I always offer to pay on a date, but the way men react to that can make me change my opinion on them -- at least a little. It says a lot about the values a person has and the way we have been socialized in gender roles.
Clinton said splitting the bill should be evaluated on a case-by-case basis.
She said that on casual group dates, it makes more sense to fairly split the bill. I think anyone who's done a big group brunch can agree with that.
But, Clinton said, on the individual level, you have to be aware of what your partner thinks. She added,
If it's important to that person to either split in the beginning of the relationship, or for one or the other of you to pay for whatever combination of reasons, you know, you just have to evaluate that and take it into account.
Basically, Clinton is arguing for communication and awareness in a relationship.
Not bad advice, really.
Citations: Cosmopolitan