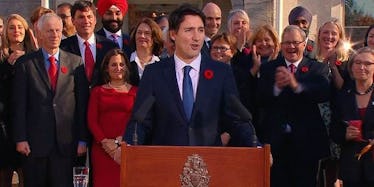 Canada's PM Has Best Response When Asked About His Gender-Equal Cabinet (Video)
On Wednesday, Justin Trudeau was sworn in as Canada's prime minister.
His recent election has been met with great enthusiasm throughout Canada.
Trudeau is young, progressive and the son of a popular former prime minister, Pierre Trudeau.
He's a refreshing change from the conservative politics and demeanor of departing Prime Minister Stephen Harper, who held office for nearly a decade.
Trudeau's youthful and forward-thinking approach to leadership was on full display on Wednesday, when his new gender-equal cabinet (15 men and 15 women) was also sworn in.
This is the first time in Canadian history there has been an equal number of men and women in the cabinet, Quartz notes.
When a reporter asked Trudeau why having a "gender-balanced" cabinet was so important to him, Trudeau simply replied,
Because it's 2015.
Well played, sir.
This comes as no surprise; Trudeau promised to appoint women to 50 percent of his cabinet positions during his campaign. Not to mention, he's a self-declared feminist (and proud of it).
I am a feminist. I'm proud to be a feminist. #upfordebate — Justin Trudeau (@JustinTrudeau) September 21, 2015
America could learn a great deal from Trudeau, given its historic lack of female leadership.
For example, while women make up around half of the US population, they only comprise about 19 percent of the US Congress. That's not exactly representative.
There's also the fact America has never had a female head of state (Canada has the US beat in that department, too, as does most of the world).
If the US truly desires to establish an equal and democratic society, there needs to be more balance in terms of political representation.
It seems no coincidence Canada was recently ranked the "freest nation in the world." Step up your game, America.
Watch footage of Prime Minister Trudeau's comments on his new gender-equal cabinet below.
Well done, Prime Minister Trudeau, you're already setting a great example for the world (and your next-door neighbor).
Citations: Justin Trudeau Is Sworn In as Prime Minister of Canada (The New York Times), Why is Canada's new cabinet half women? Justin Trudeau has the perfect answer (Quartz), This Is the Freest Country in the World (U.S. News & World Report)