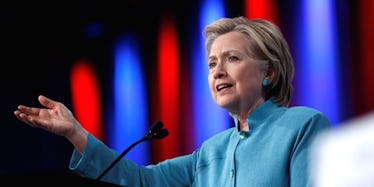 Hillary Clinton Just Took A Major Step Toward Winning Over Republicans
REUTERS
Something extremely unexpected just happened in the US presidential election: A Republican congressman endorsed Hillary Clinton.
On Tuesday, Rep. Richard Hanna, who represents New York's 22nd congressional district, announced he will vote for the former secretary of state this November. He's the first sitting Republican member of Congress to endorse her.
While I disagree with her on many issues, I will vote for Mrs. Clinton.
Why is this such a big deal?
Well, for starters, Republicans, particularly those in Congress, despise Hillary Clinton. Many made it their collective mission in life to discredit her career and derail her campaign.
Not to mention, this is arguably one of the most contentious eras in US politics ever, so it's not very often you see any level of support between the two major parties.
But, this is the effect Donald Trump is having on American politics: He's made things very unpredictable.
Hanna, who is set to retire when his term ends, is extremely critical of Trump, and this is precisely why he stepped up and endorsed Hillary Clinton.
I find Trump deeply flawed in endless ways.
In an editorial published on Syracuse.com, Hanna wrote,
I find Trump deeply flawed in endless ways. A self-involved man who is worth billions yet is comfortable -- almost gleefully -- using bankruptcy laws to avoid the consequences of his own choices. A man of character would not defend his actions but rather display shame and or at least regret. He is unrepentant in all things. Think about those average people who paid for his choices.
The congressman also touched on Trump's recent insults toward the parents of Capt. Humayun Khan, a fallen Muslim American soldier, writing,
In his latest foray of insults, Mr. Trump has attacked the parents of a slain U.S. soldier. Where do we draw the line? I thought it would have been when he alleged that U.S. Sen. John McCain was not a war hero because he was caught. Or the countless other insults he's proudly lobbed from behind the Republican presidential podium. For me, it is not enough to simply denounce his comments: He is unfit to serve our party and cannot lead this country.
Hanna stated he has many disagreements with Hillary Clinton, but essentially argued he has a lot more faith in her ability to lead than Trump.
He explained,
Secretary Clinton has issues that depending on where one stands can be viewed as great or small. But she stands and has stood for causes bigger than herself for a lifetime. That matters... While I disagree with her on many issues, I will vote for Mrs. Clinton. I will be hopeful and resolute in my belief that being a good American who loves his country is far more important than parties or winning and losing. I trust she can lead.
This endorsement comes during a tough week for Trump, who faces strong criticism from all angles, including from other Republicans like Sen. John McCain and President Obama.
Does this signify Hillary Clinton can win over more Republicans?
Perhaps, as many Republicans stated they would not support Trump or won't vote at all. So, depending on how things go over the next couple of weeks and months, their votes might be on the table.
Correspondingly, some moderate Republicans either already said they'd vote for Clinton, or signified they would consider it.
Richard Armitage, deputy secretary of state under George W. Bush, said last month he'd vote for Clinton, and Republican Sen. Susan Collins recently said it's possible she'll vote for Clinton.
This is how badly some people don't want Donald Trump to become president; they'd vote for a candidate from an opposing party.
Citations: Trey Gowdy defends two-year Benghazi probe that was riddled with partisan conflict (The Washington Post), Rep. Richard Hanna letter: We should all be done with Donald Trump (commentary) (Syracuse.com), Where Republicans Stand on Donald Trump: A Cheat Sheet (The Atlantic), Exclusive: Armitage to back Clinton over Trump (Politico), A GOP senator might vote for Hillary Clinton. Here's how rare that is. (The Washington Post)