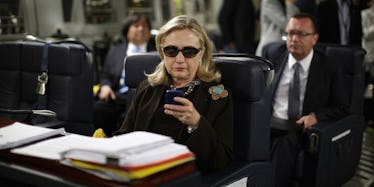 Hillary Clinton May Have Hurt Presidential Bid By The Way She Emailed
Political junkies and journalists went nuts on social media last night after The New York Times released a report revealing Hillary Clinton used a private email account during her time as secretary of state.
What's more, throughout her four years with the State Department, she didn't have a government email account whatsoever.
This means none of her emails were stored on State Department servers, something required by the Federal Records Act.
By not using a government email, Clinton might have violated federal rules surrounding public officials and record keeping. Not to mention, she may have jeopardized the safety of sensitive diplomatic correspondence.
Many took to Twitter to express their sentiments on these revelations (some taking it more seriously than others):
The fact that she literally never even bothered to set up her .gov account is just baffling. Not even an empty gesture toward compliance. — Max Fisher (@Max_Fisher) March 3, 2015
not a government account being used here pic.twitter.com/3GNG7Xam1Y — Sam Stein (@samsteinhp) March 3, 2015
The private email account of Hillary Clinton at State plays into everything people don't like about her: Political in all things. — Chris Cillizza (@TheFix) March 3, 2015
When federal officials write letters or emails on official government business, federal law requires that these communications be recorded. This is vital to the democratic process in relation to accountability and keeping the public in the loop.
And it's also highly improbable Clinton was not aware of these federal requirements. Simply put, while this may sound like a relatively minor issue, it's actually quite serious in terms of both transparency and security.
According to the NYT report, two months ago, Clinton's advisors gave the State Department around 55,000 emails from her time as secretary of state.
It's still not clear how they determined which emails were relevant before handing them over, nor do we know how many emails Clinton wrote during her four-year tenure.
This does not look good for Clinton or the Obama administration. It's also potentially damaging to her presidential bid and has provided a great deal of material for her critics.
Indeed, some have already begun to tie this to the controversial Benghazi investigation:
the media who ridiculed Benghazi reporting never found Hillary's private email account. They missed the scandal. Did ARB know it? — Richard Grenell (@RichardGrenell) March 3, 2015
Thus, it doesn't matter if you're a potential president or a college student taking inebriated photos, everything you do on the Internet has consequences.
Citations: Hillary Clinton Used Personal Email Account at State Dept Possibly Breaking Rules (The New York Times), Hillary Clintons personal email account looks bad now But it was even worse at the time (Vox), Hillary Clintons Contempt for Transparency (The Atlantic), Hillary Clinton Only Used Her Personal Email Address at State Department (New York Magazine)